Recent easing of COVID-19 measures may potentially be an inflection point for the domestic F&B sector. According to Singstat, F&B sales (seasonally-adjusted) in January '22 declined 3.5% m-o-m but +9.5% y-o-y

Local F&B sector represents 1.1% of Singapore's GDP and employs 5.5% of total workforce. Pandemic has led to a pivot in their businesses with supportive government policies.

The 5 most actively F&B plays with domestic exposure are Kimly, Jumbo Group, Japan Foods, Pavillon and RE&S Holdings.
Easing of COVID-19 Measures a Potential Inflection Point?
Recent announcement of easing of COVID-19 measures in Singapore is potentially a positive inflection point for the local food & beverage (F&B) sector. With effect from 29 March 2022, some of the more notable easing measures include: doubling of group sizes for social gatherings/dinings from five to 10 people, resumption of larger social gatherings, full reopening of borders to fully vaccinated travelers (w.e.f. 1 Apr) lifting of restriction on sale and consumption of alcohol after 10.30pm, resumption of live performances at all venues.
According to SingStat, total F&B services sales in January '22 declined 3.5% m-o-m (higher base in December) on a seasonally-adjusted basis, largely contributed by Restaurants (-5.4%) and Café/Food Courts/Others (-3.2%). On a y-o-y basis however, January y-o-y sales was at +9.5% improving from the +7.3% seen in December 2021.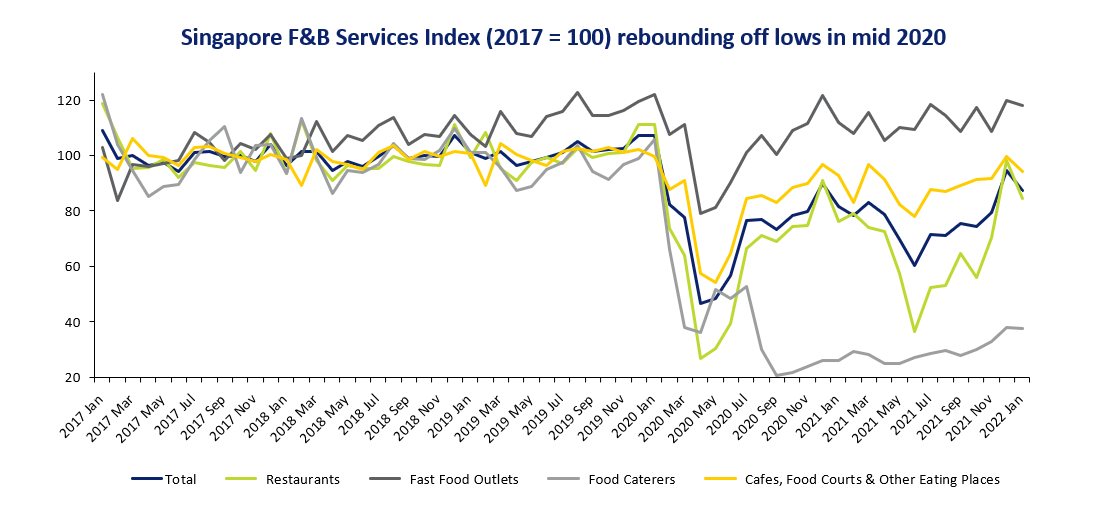 Local Food Services Industry Pivots in a Post Pandemic World
Singapore's food services industry represents around 1.1% of Singapore's GDP and employs about 5.5% of its workforce (according to a Straits Times article). Since the start of the pandemic, many eateries and restaurants have pivoted, accelerating digital adoption to cater to online and delivery sales.
To help businesses transform and overcome challenges, the Ministry of Trade and Industry (MTI) has also launched a number of supportive initiatives. In March 2022, a S$70 million Food Services and Retail Business Revitalisation Package was launched to support such businesses.
Top 5 Active Traded SGX listed F&B Stocks with Singapore Exposure
The top 5 actively traded SGX listed F&B stocks with Singapore exposure are:
Kimly (SGX:1D0): One of the leading traditional coffee shop operators in Singapore.

Jumbo Group (SGX:42R): One of Singapore's leading multi-dining concept F&B establishments.

Japan Foods (SGX:5OI): Amongst the leading F&B groups in Singapore specialising in quality and authentic Japanese cuisine.

Pavillon (SGX:596): Operator of Thai Village chain of restaurants.

RE&S Holdings (SGX:1G1): Leading concept owner and operator of F&B outlets serving authentic Japanese cuisine.