In May 2019, 24 primary-listed stocks on SGX repurchased close to 40 million shares with a total consideration of S$123 million. This was up from S$36 million in April 2019 and down from S$135 million in May 2018.

13 stocks commenced new buyback mandates in the month of May 2019: DBS, OCBC, Sing Tech Engineering, China Sunsine Chemical Holdings, AEM Holdings, Japfa, Olam Int, Raffles Medical, Koufu, Jumbo, Cheung Woh Tech, Aspen (Group) Holdings & Trek 2000 Int.

The May 2019 buyback consideration was led by DBS & OCBC, which contributed more than three-quarters of the total consideration. The previous year's mandate saw DBS buy back 0.478% of its shares and OCBC buy back 0.378% of its shares.
Total share buyback consideration for the month of May 2019 totaled S$123.1 million. There were 24 SGX-listed stocks that reported buybacks of their SGX-listings over the month, buying back a total of 39.1 million shares or units.
The S$123.1 million in buyback consideration was more than triple the buyback consideration of S$35.5 million filed in April 2019 (see market update: April 2019 SGX Share Buyback Consideration Led by OCBC, Keppel REIT & Hong Fok). The S$123.1 million in consideration was also the highest monthly tally since a total consideration of S$245.4 million was recorded in August 2018, when DBS Group Holdings ("DBS") contributed S$150.8 million to that month's tally.
Last month, the Straits Times Index (STI) declined 8.3%, with dividend distributions trimming the decline to a 7.0% decline in total return. The preceding month of April had seen the STI generate a total return of 6.1%. 
The three banks, DBS, Oversea-Chinese Banking Corporation (OCBC) and United Overseas Bank led the declines, whilst Real Estate Investment Trusts generated more defensive returns with the sector generating a total return of 0.4%. Telecommunication stocks also generated defensive returns with Singapore Telecommunications, NetLink NBN Trust and StarHub all gaining, averaging 1.3% total returns. Both these two sectors, which were comparatively defensive in May, were subject the highest net institutional inflows for the month.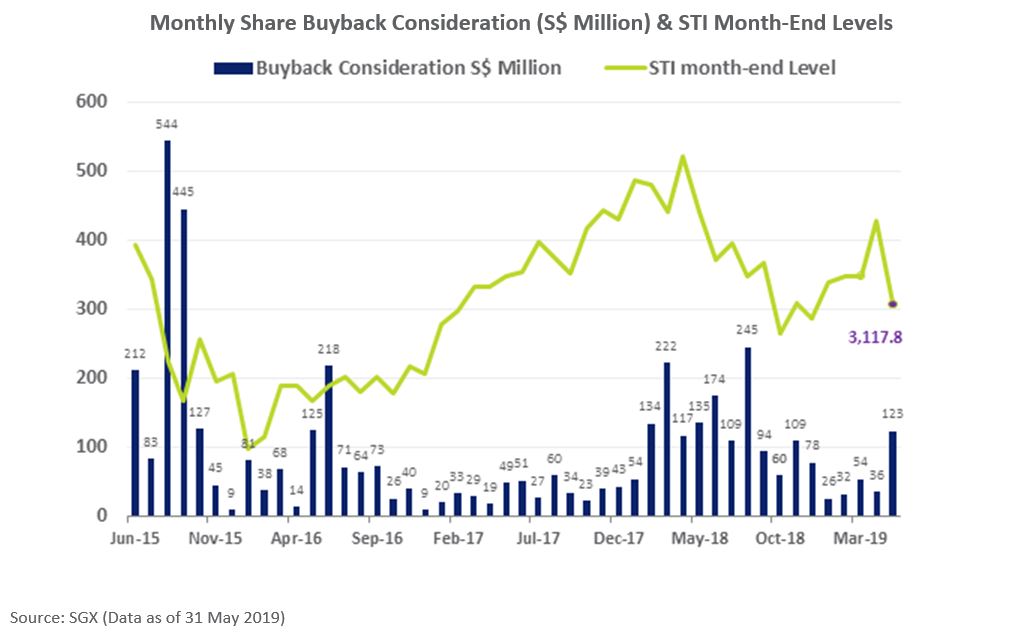 More than a Dozen New Mandates Commenced in May 2019
The table below summarises the buyback considerations in May 2019. The table is sorted by the value of the total consideration amount for the month, which combines the amount of shares or units purchased and the purchasing price of the transactions. The 13 stocks that commenced new mandates are highlighted in Bold.
Company/ Trust
Number of
Shares/units
Authorised for Purchase
in Current Mandate
Total Number of
Shares/units Purchased
in May 2019
Total Buyback
Consideration
in May 2019
(including stamp duties,
clearing changes etc.)
paid or payable
for the shares S$
Cumulative Number of
Shares/units purchased
in Mandate to date*
DBS GROUP HOLDINGS
51,165,438
2,600,000
$65,680,143
2,600,000
OVERSEA-CHINESE BANKING CORPORATION
212,257,935
2,780,000
$30,643,985
2,780,000
BEST WORLD INTERNATIONAL
55,032,011
4,875,000
$7,777,699
6,220,000
KEPPEL REIT
170,210,715
4,200,000
$5,142,030
6,390,700
SINGAPORE TECHNOLOGIES ENGINEERING
62,432,801
1,100,000
$4,323,524
1,100,000
CHINA SUNSINE CHEMICAL HOLDINGS
49,131,170
2,579,000
$2,974,024
2,579,000
GLOBAL INVESTMENTS
168,741,864
10,748,700
$1,415,269
12,278,700
SINGAPORE TELECOMMUNICATIONS
816,457,915
437,333
$1,362,963
808,005
KIMLY
115,489,763
3,600,000
$867,056
5,650,700
AEM HOLDINGS
27,096,300
900,000
$837,144
900,000
TUAN SING HOLDINGS
118,620,496
2,015,000
$747,254
2,315,000
JAPFA
186,466,879
855,500
$459,859
855,500
OLAM INTERNATIONAL
159,528,594
110,600
$195,946
110,600
THE STRAITS TRADING COMPANY
40,767,817
60,600
$132,388
75,600
NORDIC GROUP
39,251,910
477,100
$129,556
605,800
RAFFLES MEDICAL GROUP
179,835,340
100,000
$101,151
100,000
GRP
19,370,161
633,500
$99,814
944,200
DUTY FREE INTERNATIONAL
121,345,399
420,000
$80,430
7,953,600
KOUFU GROUP
55,516,300
100,000
$69,604
100,000
JUMBO GROUP
64,109,130
92,300
$34,702
92,300
CHEUNG WOH TECHNOLOGIES
30,221,180
278,900
$34,341
278,900
SINGAPORE SHIPPING CORPORATION
43,701,979
69,400
$19,549
11,821,800
ASPEN (GROUP) HOLDINGS
96,353,530
50,000
$7,614
50,000
TREK 2000 INTERNATIONAL
32,002,002
5,000
$548
5,000
Total
39,087,933
$123,136,594
Share buyback transactions involve share issuers repurchasing some of their outstanding shares from shareholders through the open market. Once the shares are bought back, they will be converted into treasury shares, which means they are no longer categorised as shares outstanding. Other motivations for share buybacks include companies moving to align stock valuations with balance sheet objectives.
The date of the relevant share buyback mandate is also provided in the table above, in addition to the amount of shares authorised to be bought back under the mandate. The total number of shares purchased under the mandate and the percentage of the companies that issued shares that have been repurchased under the mandate are also provided.
Share buyback information can be found on the company disclosure page on the SGX website, using the Announcement category and sub-category of Share Buy Back-On Market. As best practice, companies should refrain from buying back their shares during the two weeks immediately before its quarterly financial statements and one month immediately before the full-year financial statements.