In Feb 2019, the STI gained 0.7% and 15 SGX primary-listed stocks repurchased 20 million shares with total consideration of S$32 million. This was up from S$26 million in Jan 2019 and down year-on-year from S$134 million in Feb 2018.

Four stocks commenced new buyback mandates in the month of Feb 2019: Singtel, EuroSports Global, Starburst Holdings & Ecowise Holdings. Relative to outstanding shares, EuroSports Global bought back 0.27% of its shares during the month. 

The Feb 2019 buyback consideration was led by ST Engineering, OCBC and Keppel REIT Management. ST Engineering accounted for almost half the S$32 million consideration, buying back approx. 4 million shares in a price range of S$3.66 to S$3.75.
Total share buyback consideration for the month of February 2019 totaled S$31.9 million.
There were 15 SGX-listed stocks that reported buybacks of their SGX-listings over the month, buying back a total of 20.1 million in shares or units. The S$31.9 million in buyback consideration was one-fifth higher than the buyback consideration of S$26.4 million filed in January 2019 (click here for more).
Last month, the Straits Times Index ("STI") gained 0.7%, from 3,190.17 at the end of January to 3,212.69 at the end of February. As detailed in the FTSE Asia Monthly Report (click here) Singapore's Mid Cap stocks continued to be amongst the best performers in February within the FTSE ST Index Series, gaining 1.8% over the month. The FTSE ST Mid Cap Index generated a total return of 9.3% over the first two months of 2019.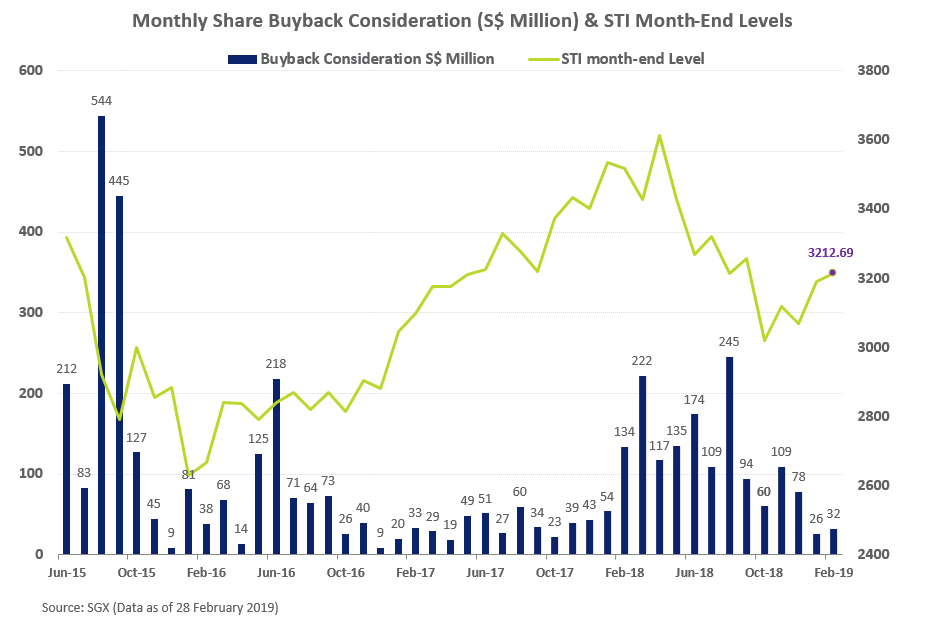 As best practice, companies should refrain from buying back their shares during the two weeks immediately before its quarterly financial statements and one month immediately before the full-year financial statements.
Four New Mandates Commenced in February 2019
Singapore Telecommunications ("Singtel") commenced its share buyback mandate on 15 February buying back 370,672 shares for a consideration of S$1.11 million. Its previous buyback was conducted on the preceding year's mandate on 25 May 2018. 

EuroSports Global commenced its share buyback mandate which had been approved on 27 July 2018. Over a series of six transactions in February, EuroSports Global  bought back 0.27% of its issued shares (the number of issued excluding treasury shares as of 27 July 2018). EuroSports Global also continued to conduct buybacks during the first two sessions of March. 

ecoWise Holdings commenced its buyback mandate approved back on 28 February 2018, with the repurchasing of 500,000 shares on 19 February. ecoWise Holdings held its FY18 Annual General Meeting on 28 February 2019 with the resolution proposing the renewal of the share buyback mandate approved. 

Starburst Holdings commenced a new buyback mandate on 27 February, buying back 70,600 shares. The mandate had been approved back on 26 April 2018. The preceding buyback mandate had seen Starburst Holdings buy back 3.3 per cent of its outstanding shares over 28 transactions. 
The table below summarises the buyback considerations in February 2019. The table is sorted by the value of the total consideration amount for the month, which combines the amount of shares or units purchased and the purchasing price of the transactions.
Company/Trust
No. of Shares/units
Authorised for
Purchase in
Current Mandate
Total No. of
Shares/units Purchased
in Feb 2019
Total Buyback Consideration
in Feb 2019
(including stamp duties,
clearing changes etc.)
paid or payable
for the shares
S$
Cumulative No. of
Shares/units purchased
in Mandate to date*
SINGAPORE TECHNOLOGIES ENGINEERING
62,407,292
4,100,900
15,216,175
5,422,300
OVERSEA-CHINESE BANKING CORPORATION
209,128,622
600,000
6,719,213
10,825,000
KEPPEL REIT MANAGEMENT
169,473,366
3,250,000
3,932,123
34,027,800
SINGAPORE POST
226,352,024
1,590,000
1,559,791
12,720,000
STARHUB
173,039,085
940,000
1,509,335
1,431,353
SINGAPORE TELECOMMUNICATIONS
816,457,915
370,672
1,113,888
370,672
STAMFORD LAND CORPORATION
86,408,798
1,299,700
637,840
35,115,200
GLOBAL INVESTMENTS
169,629,503
4,301,500
542,284
6,812,800
SINGAPORE SHIPPING CORPORATION
43,701,979
992,000
286,211
8,988,800
EUROSPORTS GLOBAL
26,500,000
715,000
134,324
715,000
BUMITAMA AGRI
173,982,394
200,000
134,132
1,567,200
SINGHAIYI GROUP
428,511,187
1,193,000
111,577
64,367,900
STARBURST HOLDINGS
12,344,611
70,600
27,073
70,600
ECOWISE HOLDINGS
95,748,302
500,000
15,035
500,000
JAPAN FOODS HOLDING
17,408,790
12,500
5,045
485,000
Total
 
20,135,872
31,944,046
 
Share buyback transactions involve share issuers repurchasing some of their outstanding shares from shareholders through the open market. Once the shares are bought back, they will be converted into treasury shares, which means they are no longer categorised as shares outstanding. Other motivations for share buybacks include companies moving to align stock valuations with balance sheet objectives.
The date of the relevant share buyback mandate is also provided in the table above, in addition to the amount of shares authorised to be bought back under the mandate. The total number of shares purchased under the mandate and the percentage of the companies that issued shares that have been repurchased under the mandate are also provided.
Share buyback information can be found on the company disclosure page on the SGX website, using the Announcement category and sub-category of Share Buy Back-On Market.