MC Payment (SGX:TVV) made its debut on the SGX Catalist via a Reverse Takeover. It is a FinTech group that provides merchant payment services and digital commerce enabling services aimed at servicing merchants in the retail, transportation and food and beverage industries. The group is headquartered in Singapore with presence in parts of Southeast Asia, namely Malaysia, Indonesia and Thailand.

The Group believes that it has become one of the major key players in the merchant payment services market in Singapore, offering customers a well-established FinTech enabling services through an integrated platform with Omni-channel capabilities.

At about S$139 million in market capitalisation, the listing of MC Payment brings the total number of technology companies listed on SGX to over 80, with a combined market capitalisation of around S$78 billion.
Incorporated on June 2005, MC Payment commenced business operations as a mobile payment technology solutions provider. A year later, MC Payment successfully launched its first proprietary mobile payment solution systems, which provided customers with the hardware and software for mobile phone to detect credit cards, connect to bank servers and process payment wirelessly.
Since then, MC Payment has expanded its operations beyond Singapore and into Malaysia, Indonesia and Thailand. It has been granted payment licenses from central banks all three key overseas markets. Most recently in 2020, the Group has also obtained Major Payment Institution License from the MAS to conduct payment services comprising domestic money transfer service, cross-border money transfer service and merchant acquisition service.
MC Payment's Key Business Segments
Merchant Payment Services ("MPS")

MC Payment provides payment processing services to merchants through its platform, by aggregating two technological solutions, online payment and in-store payment, into a single-point (unified) offering. Payment modes include e-wallets, credit cards, debit cards and bank transfer.

MC Payment charges based on a transaction-by-transaction basis for its online payment processing services, with fees per transaction for each payment processed.

Transactions are categorized into:

Online Payment Processing: Services are available to online merchants, who could integrated their websites and mobile applications securely on to the unified payment platform.

In-store Payment Processing: Services are targeted to merchants with physical stores. These merchants can install MC Payment's Smart App onto any MC Payment's point-of-sale terminals and instantaneously process payments from multiple cards and payment methods.

For illustration purposes, below are diagrammatic representations of the relationship between the MC Payment and its customers and suppliers: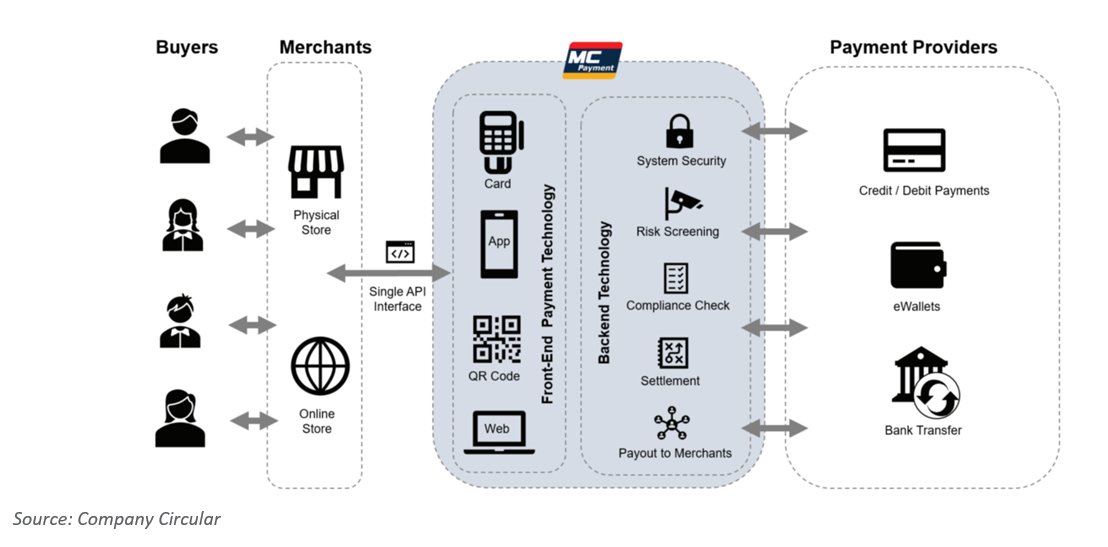 Digital Commerce Enabling Services ("DCES")

Under DCES, MC Payment provides supplementary services on a non-transactional and on a project basis. These include sale/lease of Smart point-of-sale terminals, software-as-a-service (SaaS) and white labelling.

Merchants are able to leverage on MC Payment's unified platform and Smart app as a base software, and indicate additional and customizable features, such as customer relationship management, real-time sales monitoring and inventory monitoring, to tailor to their customers' specifications and business operations.
MC Payment's Prospects & Future Plans
Revenue Expectations: The group expects revenue to increase in line with the increasing demand from online merchants as a result of increase in online shopping activities. This could however be partially offset by a decrease from in-store payment processing services due to COVID-19 restrictions.

Enhance platform to become a comprehensive (B2B) transactional platform: (i) develop value-added services and capabilities (e.g. using Artificial intelligence, big data, blockchain) to add to its current portfolio of core payment processing services, and (ii) continuously develop new technology and other payment solutions.

Expand customer base: To retain its existing customer base via overseas expansion, implementation of online to offline (O2O) strategies, and providing additional customised value-added services through its integrated platform. To continue to attract new merchants, it intends to leverage on its technological knowhow, and proven track record to further enhance its unified payment processing platform and the range of value-added services.

Expand presence in the Southeast Asian region: MC Payment intends to penetrate new geographical markets across Southeast Asia, at the appropriate juncture.

Expand market reach, technological know-how and operational capabilities via M&A, JVs and partnerships: The Group intends to expand its geographical footprint either organically or by collaborating with suitable partners through strategic alliances, mergers and acquisitions, joint ventures and/or franchises.
MC Payment's Key Risks Factors
The average fee for technology service providers and providers of merchant payment services has been increasingly competitive as a result of increasing entry of market participants. Existing competition from technology firms and software companies in terms of price, platforms and products may erode market share.

Renewal and obtaining of licences and permits for merchant acquisition business activities are subjected to compliance with MAS stipulated guidelines and conditions. Any changes to existing guidelines will also require new applications for these licences and permits, which are subjected to approvals.

FinTech, MPS and DCES industries are heavily reliant on the health of the economy and consumer spending.

Its business operations are subject to the political, economic and social developments as well as laws and regulations in Singapore and globally.
MC Payment's Financials & Valuations
Based on its financial statements in the company circular, MC Payment's gross profits were S$3.9 million and S$2.5 million for FY2019 and 1H2020 respectively. This represents gross profit margins of 45.5% and 42.0% in the same period. MC Payment noted that although it has recorded profits before tax of S$0.7 million in 1H2020, the Group is expected to be in a loss position for FY2020.

Revenue from MPS segment amounted to S$5.1 million in 1H2020, while revenue from the DCES segment amounted to S$0.9 million in 1H2020. This accounts for 84.5% and 15.5% of MC Payment's total revenue 1H2020 respectively.

With the consolidated issue price of S$0.525 and 262.2m consolidated shares, the enlarged capital of the Company will have an approximate market capitalisation of S$139m. The consideration for the acquisition under the Reverse Takeover was S$82.8m.

More information on MC Payment available in its Company Circular.
See also