SGX listed rubber glove plays averaged +16.3% total returns in the past 5 trading sessions, outperforming the STI (+3.0%) amidst potential disruption to supply chain from Chinese manufacturers and identification of a new hybrid COVID variant.

In recently concluded earnings, SGX listed rubber glove maker trio - Top Glove, Riverstone and UG Healthcare pointed to a challenging environment and moderating near-term demand which is leading to ASPs decline. However, they are still constructive on longer-term outlook with some still continuing previously planned capacity expansion.

The trio has a combined market cap of more than S$6 billion, with a combined capacity of over 110 billion pieces of gloves per annum.
Rubber glove makers have seen increased investors focus in past 2 years, as the COVID-19 pandemic has led to a rapid rise in global demand for disposable glove in these unprecedented times. Specifically, over the past two years, the 3 most traded SGX rubber glove manufacturers and distributors posted an average total return of 185.5%, as compared to STI's +44.5%.
As the pandemic stabilizes, demand for gloves has retreated from the peak seen in 2021. Entrants of new players (e.g. from China) have also led to intensifying competition and adds to pressure on average selling prices (ASPs). According to a media report (The Malaysian Reserve), Malaysian glove manufacturers contribute up to 67% of global supply, with China about 10%.
In the past 5 trading sessions, SGX's rubber glove makers trio averaged +16.3%* total returns and outperforming STI's +3.0%. Market reports suggested COVID-19 lockdowns in some parts of China may potentially lead to delayed delivery of gloves from Chinese manufacturers. During their last earnings reports, the companies pointed to a challenging environment and moderating demand as near-term headwinds but are constructive on longer-term industry outlook.
* returns skewed by Riverstone with a total return of 40.6%. Riverstone announced dividends of MYR0.38 per share in CY2022, representing > 10% of current traded price.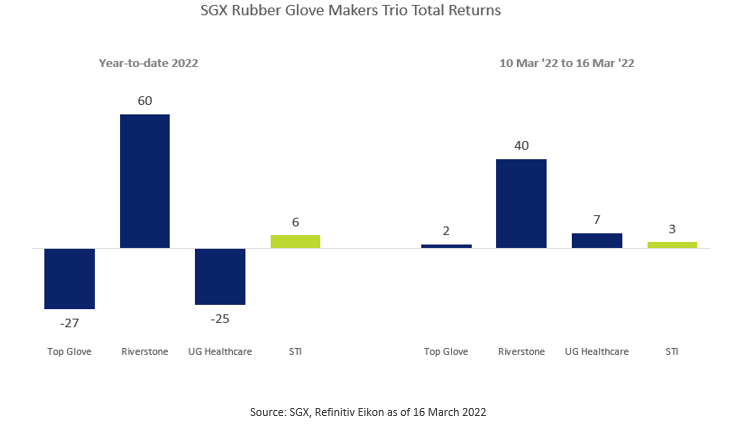 Outlook commentaries from latest earnings from SGX's rubber glove makers trio
Top Glove (SGX:BVA)
Business environment anticipated to be challenging and competitive in the immediate term as pandemic gradually comes under control.
Additional glove supply and ensuing pricing/margin pressure may in turn result in industry consolidation, as part of business cycle.
Glove demand will continue to grow steadily, albeit not at the accelerated but unsustainable pace during the pandemic.
Long-term industry outlook promising with opportunity still abound.
Remains cautious and will scale back on its expansion plans for the interim, ready to reinstate expansion plans as required when demand eventually picks up.
Riverstone (SGX:AP4)
As previously announced, add additional capacity of up to 1.5 billion pieces of gloves by end 2022, bringing annual production capacity to up to 12.0 billion pieces of glove.
Macroeconomic headwinds (e.g. USD fluctuations, volatile raw material prices, rise in overall production costs) remain challenges.
Restrictions in Malaysia caused by pandemic and possible reimposition of movement control restrictions in Malaysia could pose an additional challenge.
Competition from newcomers and Chinese manufacturers a recent challenge.
UG Healthcare (SGX:8K7)
1H FY22 (end Dec '21) revenue mainly impacted due to ASPs decline, shipment delays to key markets, customers' preference to hold lower inventory in view of ASP downtrend, lower production volumes.
New factory to increase production capacity by an additional 1.2 billion pieces of gloves annually delayed due to temporary shutdown of construction in Malaysia.
Competition in disposable gloves sector continues to intensify, particularly in upstream manufacturing.
Placing more emphasis on strengthening proprietary "Unigloves" market position, expanding customer base and broadening product portfolio at downstream distribution operations.
Continues to seek diversification in non-glove investment opportunities in the healthcare related sectors to complement glove products that could leverage on its entrenched downstream distribution network.