Nanofilm Technologies International (NTI), one of Asia's leading providers of nanotechnology solutions made its debut on the SGX Mainboard. Nanofilm Technologies operates 3 main business units Advanced Materials, Nanofabrication, and Industrial Equipment.

Nanofilm Technologies has a unique position in the advanced materials & surface solutions industry with its patented FCVA and Hybrid FCVA technology to solve complex problems compared to conventional coating technologies and materials.

Nanofilm Technologies believes that it is well-positioned to benefit from secular growth trends such as the increasing premium nature of end-products, digitalization, IoT adoption, 5G implementation, increasing data demand, stricter emission standards for combustion engines and increasing environmental regulation.
Nanofilm Technologies International (NTI), was founded in 1999 as a high-tech spin-off from the Nanyang Technological University, offering surface solutions including using its Filtered Cathodic Vacuum Arc (FCVA) technology. Today, it operates 3 business units:
Advanced Materials (77% of FY2019 revenue) – Surface solution services based on its vacuum coating technologies and processes. Nanofilm Technologies utilises its FCVA and Physical Vapour Deposition (PVD) coating equipment to deposit the advanced materials on components of end products such as computers, wearable devices, smartphones.

Nanofabrication (19% of FY2019 revenue) – Fabricate and supply nanoproducts based on its nanofabrication tech and software designed to customers' specification to be used as components for the smooth functioning and performance of certain parts of their end-products.

Industrial Equipment (4% of FY2019 revenue) – Manufacture and sale of turnkey equipment systems from coating to auxiliary equipment installed at customers' production lines. Nanofilm Technologies also customizes software for the systems and provide after-sales support.
Nanofilm Technologies supports over 300 customers across multiple industries such as Microsoft, Huawei, Canon, Sunny Optical and Customer Z which is its largest customer contributing 56.5% of its revenue for 1H2020.
Note: Customer Z's name has not been identified due to confidentiality restriction agreements. Customer Z is known to be a global technology company that designs, develops and sells consumer electronics, computer software and online services.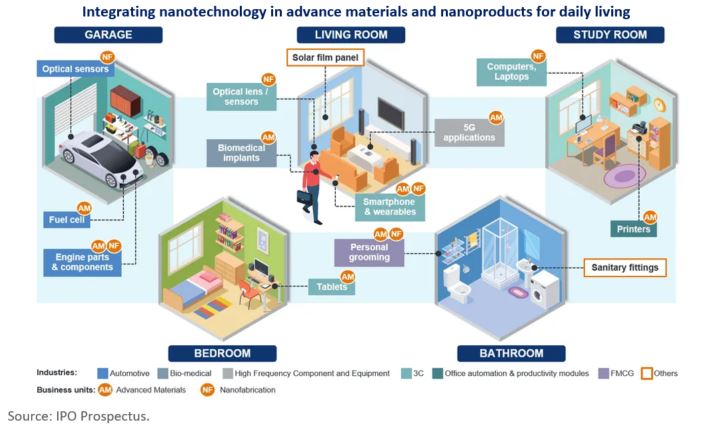 Highlights of Nanofilm Technologies' IPO on SGX Mainboard (from the IPO Prospectus)
1) Highly scalable platform for future growth
Growing trends – All 3 key segments of Nanofilm Technologies' total addressable market had registered positive CAGR in market size between 2016 and 2019, and is expected to continue in the next 2-3 years.

Advanced Materials: Global market size expected to grow at a CAGR of 7.5% (2020 to 2023) to reach US$24.3bn in 2023.
Nanoproducts: Expected to grow at a CAGR of 11% (2020 to 2023) to reach US$7.8bn in 2023.
Components Manufacturing: Global market size expected to grow at a CAGR of 4.6% (2020-2023) to reach US$423bn in 2023.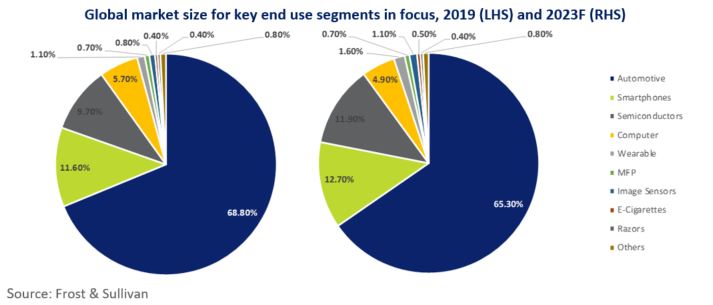 Key enabler for blue-chip customers across mission-critical applications – Nanofilm Technologies' TAC-ON® advanced material and its patented FCVA technology present significant advantages compared to conventional coating technologies and materials, enabling its customers to achieve high value-add functional and aesthetics improvements in their end-products, in a sustainable manner.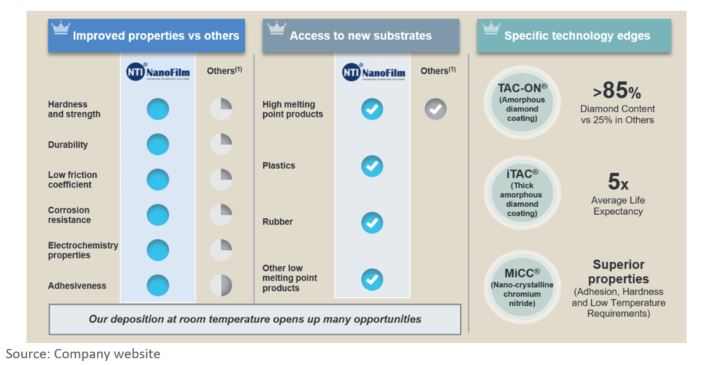 Value-add and high customer stickiness – 9 out of Nanofilm Technologies' top 10 major customers are solely supplied by the company across a number of mission critical applications for their nanotechnology solutions.

2) Superior engineering and production capabilities
Bridging the gap in the industry – Technology-based solutions offered to customers at affordable prices, replacing the need to rely on expensive materials through research & development (R&D), engineering and production capabilities.

Capturing greater share in existing markets –Increase market share through a two-pronged approach of increasing sales to existing customers and capturing new customers, which include end-industries such as computer, communications, and consumer electronics (3C), printing and imaging, and precision engineering.

Strong in-house capabilities – Nanofilm Technologies designs, manufactures and assembles its proprietary coating equipment, and develops and provides its surface solutions and advanced materials in-house. Nanofilm Technologies' core competencies constitute its captive technology ecosystem which allows them to drive value creation.
3) Well-structured to expand into new end-industries
Key end-use segments for Advanced Materials and Nanoproducts include automotive, smartphones, semiconductors, computers, and wearables. In 2019, the global market size for these end-use segments amounted US$4.3tn and is expected to reach US$4.5tn in 2023.
Nanofilm Technologies intends to leverage on the adaptability of its proprietary solutions to identify and capture opportunities in new end-industries such as biomedical, aerospace and IoT optics industries.
Nanofilm Technologies is well-positioned to benefit from the growth trends in these additional new markets such as rising usage of medical implants, rapid adoption of electric vehicles, demand for high-speed data processors and high demand for aircraft engine efficiency.
4) Competitive edge and proprietary technologies
Nanofilm Technologies owns the following proprietary advanced materials:
TAC-ON®
iTAC™
MiCC™
FCVA Metals (Conventional materials such as Copper and Aluminum which are enhanced with improved nanoproperties through its FCVA technology)
Key Risks (Page 48 of the IPO Prospectus shows a complete list of risk factors)
Dependent on a single customer for a substantial portion of its revenue and a limited number of customers account for the majority of its revenue.
Nanofilm Technologies' major end-customers posed significant leverage over the company under its contracts with them.
Nanofilm Technologies' business and operations can be vulnerable to factors adversely affecting its customers.
Ability to establish, maintain and protect its proprietary intellectual property rights is important to Nanofilm Technologies' business. The company is also susceptible to negative impacts from third-party claims of intellectual property infringement.
Financials
For the financial years ended 31 Dec 2017, 2018 and 2019, Nanofilm Technologies' revenue grew at a CAGR of 17%. It generated an adjusted EBITDA margin of 40% for the financial year ending 31 Dec 2019, driven by its Advanced Materials segment.
According to the unaudited pro forma financial statements, Nanofilm Technologies' revenue increased by 41% y-o-y (or S$23m) to S$78m for 1H2020. Adjusted EBITDA also climbed 63% y-o-y (or S$13m) to S$33m for the first half of 2020.
The net profit after tax for unaudited six-month period ended 30 Jun 2020 was S$18.5m, a 62% increase y-o-y from S$11.4m in 1H2019.
On revenue by product type for 1H2020, both Advanced Materials and Nanofabrication registered y-o-y increases of 67% (or S$26m) and 10% (or S$0.3m) to S$64m and S$3m, respectively.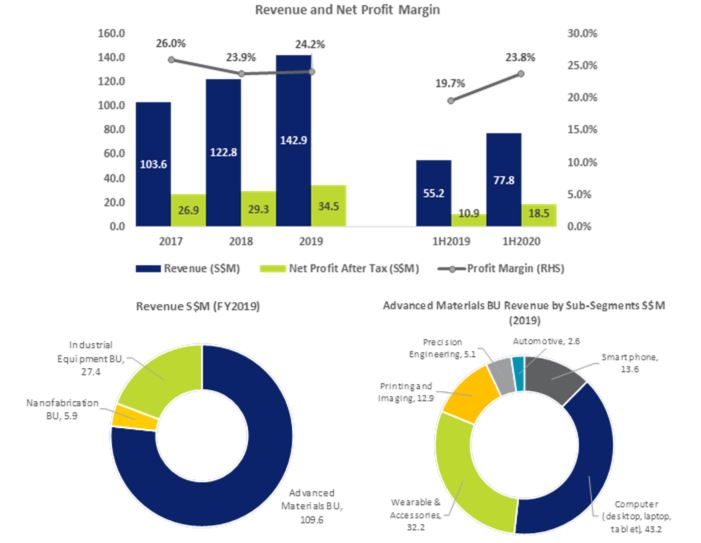 Nanofilm Technologies' Valuation
According to the IPO prospectus, Nanofilm Technologies' earnings per share (EPS) for the 12 months ended 30 June 2020 (TTM) was S$8.36 cents (pre-invitation offering) and S$6.73 cents* (adjusted for the issuance of the Conversion Shares, the New Cornerstone Shares and the Offering).
This implies a price to earnings ratio of 30.9x and 38.5x respectively calculated based on the offer price of S$2.59. According to the prospectus, the pro forma NAV per share as of 30 June 2020 (after adjusting for the issue of shares under the Pre-IPO ESOS, the conversion shares and the new cornerstone shares) was S$59.0 cents.
*TTM EPS (pre-invitation offering) is derived from 2H2019 EPS of S$4.8 cents (based on S$6.99 cents (FY2019) minus S$2.22 cents (1H2019)) and 1H2020 EPS of S$3.59 cents. TTM EPS (adjusted for issuance of the Conversion Shares, the New Cornerstone Shares and the Offering) is derived from 2H2019 EPS of S$3.68 cents (based on S$5.57 cents (FY2019) minus S$1.89 cents (1H2019)) and 1H2020 EPS of S$3.05 cents.
Additional information from the Nanofilm Technologies' IPO Prospectus
Nanofilm Technologies' Cornerstone Investors
Immediately post the offering and redemption, the following cornerstone investors will collectively hold 104.3 million of Nanofilm Technologies shares, representing a 15.8% interest. These cornerstone investors are:
Aberdeen Standard Investments (Asia) Limited
AIA Investment Management Private Limited
Avanda Investment Management Pte Ltd
Credit Suisse AG, Singapore Branch and Hong Kong Branch (on behalf of certain of their private banking clients)
Eastspring Investments (Singapore) Limited
Employees Provident Fund Board
Fullerton Fund Management Company Ltd
JPMorgan Asset Management (Singapore) Limited
Lion Global Investors Limited
Nikko Asset Management Asia Limited
Principal Asset Management (S) Pte Ltd
SMALLCAP World Fund, Inc. and American Funds Insurance Series – Global Small Capitalization Fund (Funds advised by Capital Research and Management Company)
Venezio Investments Pte. Ltd (an indirect wholly-owned subsidiary of Temasek)
Immediately following completion of the Offering and the issue and sale of the Cornerstone Shares, its Founder Dr Shi Xu will hold 319,999,980 Shares (being 66,290,020 Shares held directly and 253,709,960 Shares indirectly held through Pearl Yard Holdings Inc.) (the "Dr Shi Lock-Up Shares"), representing approximately 48.6% of its post-Offering share capital (assuming the Over-allotment Option is not exercised).
Nanofilm Technologies IPO Details 
Offer price at S$2.59 per Offering Share
Total number of Shares offered at 77.2 million shares (if Over-allotment Option is not exercised)

73.4 million shares under the International Offering
3.9 million shares under the Singapore Public Offer

Estimated IPO Market Capitalisation at S$1.7 billion
Use of gross proceeds due to Nanofilm Technologies from the issue of New Cornerstone Shares (Total of S$200.0 million):

S$90.0 million – Capital expenditure on development and building of new machinery for its Advanced Materials BU and purchase of new machinery for its Nanofabrication BU
S$50.0 million – R&D and engineering for entry into new end-industries and new areas and/or products in existing markets
S$30.0 million – Construction, refurbishment and renovation of new and existing production facilities
S$20.9 million – General corporate and working capital purposes
S$9.1 million – Payment of underwriting commissions and offering expenses
Additional Information on Nanofilm Technologies by Frost and Sullivan
Nanofilm Technologies has 48 patents granted and in force in China, Singapore, the United States, Japan, the United Kingdom and Europe.
The company has also 20 pending patent applications, comprising applications in China and Europe, as well as international "PCT" (Patent Cooperation Treaty) applications to its credit.
The company has also established long standing relationship with some of the largest brands known globally such as Microsoft, Sony, P&G, Samsung, Hitachi and others.
The accessibility to such a significant large market enables Nanofilm Technologies with the potential to work with close to 300 customers globally across a multitude of end use segments.
Nanofilm Technologies' Filtered Cathodic Vacuum Arc (FCVA) technology
Nanofilm Technologies patented its unique coating solution known as Filtered Cathodic Vacuum Arc (FCVA) technology. According to the IPO Prospectus, the FCVA technology enables vacuum coating deposition to be performed at room temperature, which is both environmentally friendlier and allows vacuum coating to be performed on a wider variety of substrate materials such as plastics, rubber and ceramics, on a commercial scale. 
Conventional coating technologies such as PVD (sputtering) and CVD typically require high temperatures and energy consumption in order to operate. By contrast, Nanofilm Technologies' unique FCVA technology exhibits significant advantages, refer to the technical specifications of which are shown in the table below (or refer to page 186 of the prospectus):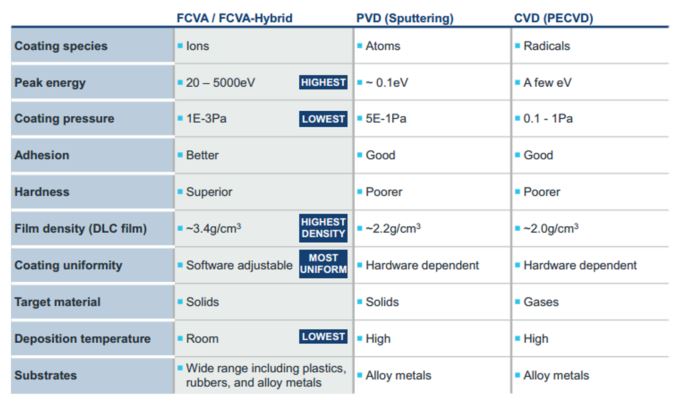 See Nanofilm Technologies share price, Nanofilm Technologies latest news