In July, 13 SGX primary-listed stocks bought back shares for a total consideration of S$3 million, lower than the S$13 million in consideration for June 2020, and seasonally lower than the S$42 million buyback consideration reported in July 2019.

The S$3 million in buyback consideration represented a modern monthly low since SGX Market Updates began reporting buyback considerations in October 2014. The change in pace contrasts to the month of March which saw the highest buyback consideration in 55 months.

STI constituent ST Engineering led the buyback consideration in July, while four companies commenced new buyback mandates - Spackman Entertainment Group, Zhongmin Baihui Retail Group, LY Corporation and Choo Chiang Holdings. 
Total share buyback consideration for month of 2020 July totaled S$2.9 million, down from S$12.6 million in June (see More than 80 Singapore Stocks Conducted Buybacks in 1H20) and down from S$14.9 million in May (see ST Engineering Leads May 2020 Buyback Consideration Tally on New Mandate). This has brought the total consideration of share buybacks for SGX primary-listed stocks to S$666 million for the first seven months of 2020, up from S$590 million in consideration for the entire calendar year of 2019. 
While buybacks are expected to slow ahead of earnings, this was the lowest monthly considerations recorded since SGX Market Updates began reporting on buyback considerations in October 2014. The record low consideration coincided with a 2.3% decline in the Straits Times Index ("STI") to 2,529.82, the narrowest monthly price move by the STI since January. The overriding factor underpinning market sentiment across all asset classes was the resurgence in COVID-19 cases in July. The total number of COVID-19 cases grew from 10 million at the end of June, to 17 million at the end of July, whilst the total mortality rate declined from 4.9% to 3.9%.
The STI's 2.3% decline in July saw its 10-day historical volatility contained between 10% and 17% for the entire month. For context, on 15 June, the STI 10-day historical volatility reached as high as 34%, and as high as 80% on 25 March and 31 March.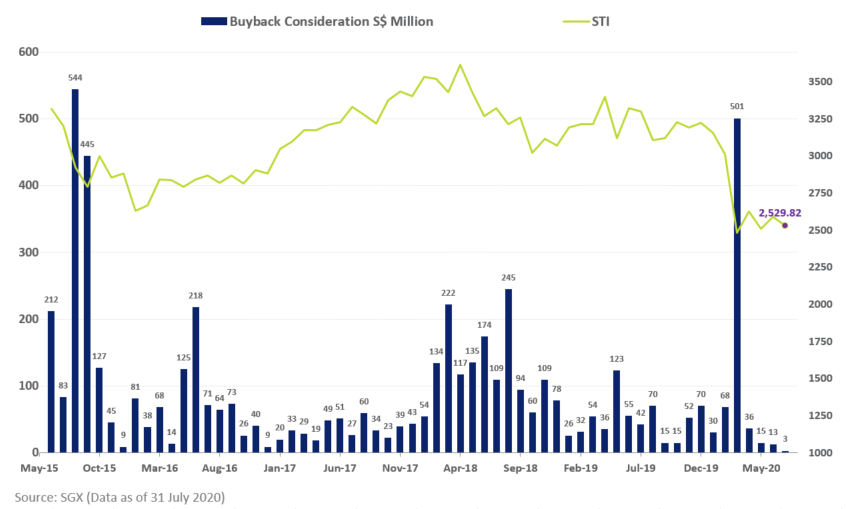 Together, the SPDR® STI ETF and Nikko AM STI ETF garnered net creations of S$574 million over the first seven months of 2020 as investors accumulated units amidst the market declines. The S$574 million is up 226% from the total net creations of S$176 million for the entire 2019 year. 
The table below summarises the buyback considerations in July 2020. The table is sorted by the value of the total consideration amount for the month, which combines the amount of shares or units purchased and the purchasing price of the transactions.
As many as 4 of the 13 companies commenced new buyback mandates in July - Spackman Entertainment Group, Zhongmin Baihui Retail Group, LY Corporation and Choo Chiang Holdings. 
Stocks
Number of Shares/units
Authorised for Purchase
in Current Mandate
Total Number of
Shares/units Purchased
in July 2020
Total Buyback Consideration
(including stamp duties,
clearing changes etc.)
paid or payable
for the shares
in July 2020
Average Price Paid
Per Share
S$
Cumulative Number of
Shares/units purchased
in Mandate to date
ST ENGINEERING
62,429,441
500,000
$1,664,685
3.329
3,000,000
GLOBAL INVESTMENTS
161,476,125
2,915,500
$399,116
0.137
4,200,800
SINGAPORE SHIPPING CORPORATION
42,417,689
993,500
$262,493
0.264
25,286,000
SPACKMAN ENTERTAINMENT GROUP
192,165,732
20,000,000
$200,621
0.010
20,000,000
TELECHOICE INTERNATIONAL
45,253,352
770,000
$154,614
0.201
1,750,000
THE STRAITS TRADING COMPANY
40,694,407
53,000
$86,077
1.624
121,000
SINGAPORE O&G
47,680,300
178,000
$45,272
0.254
1,196,266
ZHONGMIN BAIHUI RETAIL GROUP
19,179,570
28,000
$16,803
0.600
28,000
ST GROUP FOOD INDUSTRIES HOLDINGS
24,600,000
226,500
$15,474
0.068
3,523,000
EUROSPORTS GLOBAL
26,220,160
69,900
$13,358
0.191
1,033,900
LY CORPORATION
48,914,420
20,000
$4,005
0.200
20,000
CHOO CHIANG HOLDINGS
20,800,000
9,000
$1,890
0.210
9,000
SHOPPER360
11,440,000
13,500
$1,245
0.092
2,731,200
Total
 
25,776,900
$2,865,652
 
Share buyback transactions involve share issuers repurchasing some of their outstanding shares from shareholders through the open market. Once the shares are bought back, they can be converted into treasury shares, which means they are no longer categorised as shares outstanding. Motivations for share buybacks can include employee compensation plans (such as share option schemes or employee share purchase plans) or long term capital management. Buybacks can pick up amidst market declines that are driven by broader moves on international macroeconomic developments.
Share buyback information can be found on the company disclosure page on the SGX website, using the Announcement category and sub-category of Share Buy Back-On Market. As best practice, companies should refrain from buying back their shares during the two weeks immediately before its quarterly financial statements and one month immediately before the full-year financial statements.