Median returns indicate that regional Utility stocks have been less volatile and better performing than Energy stocks in the 2020 YTD, while at the same time less volatile, but just as defensive as Basic Material stocks with a 2% YTD decline in total return.  

The demerger of Singapore's largest Utility play, Sembcorp Industries, from Sembcorp Marine (announced 8 June) aims to strengthen both firms' financial positions, enabling each entity to better focus on its respective industry and pursue a sustainable growth path.

Catalist-listed Union Gas has led the performance of Singapore's largest Utility plays in the 2020 YTD with a 20% total return, adding to its 8% gain in 2019.  For its FY19 (ended 31 Dec) Union Gas reported a 31% YoY jump in net profit to S$8.4 million, as revenue rose 39.8% to S$78.8 million.
Asia Pacific Utility stocks have been comparatively muted in both price moves and volatility the 2020 year to date. The median 180-day historical volatility of regional Utility stocks was close to one-third less than regional Energy stocks and around a quarter less than seen in regional Basic Materials stocks. Asia Pacific's Utility stocks generated a 2% decline in total return for the 2020 year to 7 July, following a 3% median total return in 2019. This has poised the median Price-to-Book ("P/B") ratio of the Asia Pacific Utility stocks to at 1.1x, which is one-tenth below its five year average P/B ratio.
By comparison in Singapore, moves were less muted with the five largest Utility stocks by market value, averaging an 8% decline in total return in the 2020 year to 7 July. However this followed comparatively stronger gains relative to the region in 2019. The 5 Utility stocks – Sembcorp Industries, Keppel Infrastructure Trust, China Everbright Water, SIIC Environment Holdings and Catalist-listed Union Gas Holdings currently maintain an average P/B ratio of 1.0x.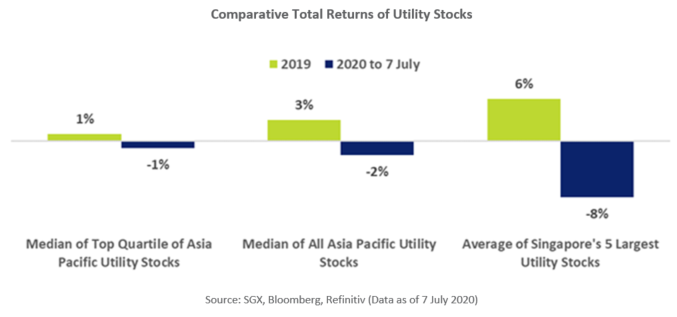 As tabled below, the least volatile of Singapore's 5 Utility stocks in the 2020 year to 7 July were Union Gas Holdings and Keppel Infrastructure Trust, which also outperformed the median 2% decline inregional Utility stocks, with respective total returns of 20% and 3%.
SGX Listed Utility Stocks
SGX
Code
Market Cap
S$
180 Day
Volatility
%
2020 YTD
Total
Return
%
2019
Total
Return
%
P/B
SEMBCORP INDUSTRIES
U96
3,269,169,920
53
-18
-8
0.5
KEPPEL INFRASTRUCTURE TRUST
A7RU
2,669,884,160
36
3
21
1.5
CHINA EVERBRIGHT WATER
U9E
629,392,896
44
-29
10
0.4
SIIC ENVIRONMENT HOLDINGS
BHK
572,619,904
50
-17
0
0.3
UNION GAS HOLDINGS
1F2
67,534,288
33
20
8
2.2
Average
 
 
43
-8
6
1.0
Recent Key Developments of Singapore's Five Largest Utility Stocks 
Sembcorp Industries
In an 8 June 2020 statement, Sembcorp Industries (SCI) and Sembcorp Marine proposed a S$2.1 billion recapitalisation of Sembcorp Marine and demerger of both firms.

Sembcorp Marine will undertake a 5-for-1 rights issue (5 rights shares for every 1 Sembcorp Marine share held) at a rights issue price of S$0.20 per share.
Proposed demerger through a distribution in specie of Sembcorp Industries' stake in the recapitalised Sembcorp Marine to Sembcorp Industries shareholders as dividends.
Sembcorp Industries will continue to be focused on its core areas of energy and urban development, and be poised to capture opportunities in sustainable energy transition.
Upon completion of the proposed transaction, Temasek will be a direct and significant shareholder of Sembcorp Industries (approximately 49.3%).

On 18 May 2020, Sembcorp Industries provided an update on the impact of COVID-19

Business conditions are expected to remain difficult in light of the global recession forecast by the International Monetary Fund (IMF) following COVID-19, as well as the sharp decline in oil prices.
Despite the challenging environment, the Group expects to maintain positive operating cash flow in 2020 underpinned by its long-term contracts and diversified portfolio of businesses.

On 21 Feb 2020, Sembcorp Industries reported a net profit of S$247 million and turnover of S$9.6 billion for the year ended 31 Dec 2019, compared with S$347 million and S$11.7 billion respectively in FY2018. Excluding exceptional items, underlying Group net profit grew 17% to S$395 million.

While the offshore and marine sector continues to experience a sustained downturn, the Group's Energy and Urban businesses will continue to underpin its performance in 2020.
Sembcorp Industries remains committed to its transformation plan, anchored by strong fundamentals and increasing opportunities to provide sustainable solutions to support the global energy transition.
Its Urban business delivered another year of record profits.
Underlying earnings for the Energy business improved with overseas markets performing better, and India continuing its profit growth trajectory.
Net profit from its renewable energy business has increased nearly five-fold since 2016 to S$80 million in 2019.

Sembcorp Industries will release its 1H2020 financial results on 17 July after trading hours.
Keppel Infrastructure Trust
On 20 Apr 2020, Keppel Infrastructure Trust (KIT) reported a distributable cash flow (DCF) of S$51.1 million for 1Q 2020, up 5.6% YoY, thanks to its highly defensive portfolio

Distribution per unit (DPU) for 1Q 2020 was 0.93 cents, translating to an annualised distribution yield of 8.8%
The Trustee-Manager will continue to monitor the situation closely, and work to mitigate the effects of COVID-19 to its operations in Singapore, Australia and New Zealand during this period.
It remains confident that Keppel Infrastructure Trust, with its well-diversified portfolio providing essential products and services, is well positioned to weather this unprecedented period of uncertainty and continue to deliver long-term sustainable distributions and returns to unitholders.

On 24 June 2020, KIT and Keppel Energy announced they had secured a seven-year S$700 million sustainability-linked loan for its jointly owned gas-fired co-generation plant, Keppel Merlimau Cogen Plant.

The loan is benchmarked to the plant's carbon emissions intensity against national indices, as well as demonstrating continuous improvement in the plant's carbon emissions intensity. If these pre-set targets are met, the interest rate on the facility will be subsequently reduced on a tiered basis.

Keppel Infrastructure Trust will release its 1H2020 financial results on 22 July.
China Everbright Water
On 27 Feb 2020, China Everbright Water reported attributable net profit of HK$833.5 million, up 23% YoY, while revenue gained 16% to HK$5.55 billion
The Group was officially listed on the Mainboard of The Stock Exchange of Hong Kong on 8 May 2019, achieving its dual primary listing status. This has helped further expand its international financing platforms in preparation for the next round of developments
During the year under review, the Group continuously focused on technological R&D and acquisition of technologies, in the areas such as advanced waste water treatment, water environment management, and sludge treatment and disposal
It also developed technologies and products, such as Membrane Aerated Bioreactor (MABR), accurate dosing and aeration, as well as new ozone catalysts, to meet market demands. In FY2019, the Group was granted 25 patents (11 invention patents inclusive) and published 27 scientific papers
SIIC Environment Holdings
On 8 May 2020, SIIC Environment reported attributable net profit of RMB130.1 million, down 13.3% YoY, while revenue fell 21.2% to RMB1.05 billion, largely due to a 65.7% YoY decline in construction revenues, after project construction activities were restricted during COVID-19 lockdowns.
The Group's operating and maintenance income and financial income from service concession arrangements in 1Q FY2020 surged by 15.7% as both wastewater treatment volume and average treatment tariff increased
In terms of new projects, the Group was awarded eight operation and maintenance (O&M) projects, amounting to a total design capacity of 76,300 tonnes/day.
During 1Q FY2020, two wastewater treatment projects with a total design capacity of 85,000 tonnes/day, and two expansion and upgrading projects with a total design capacity of 80,000 tonnes/day have commenced commercial operations
With COVID-19 under control in China, enterprises have resumed work and production. SIIC remains confident that industry demand will further increase post-COVID-19, and municipal environmental construction projects will also recover, offering solid reasons to be positive about prospects and opportunities in the coming months
Union Gas Holdings
On 27 Feb 2020, Union Gas reported net profit jumped 31.0% YoY to S$8.4 million for the year ended 31 Dec 2019, as revenue rose 39.8% to S$78.8 million, thanks to the three-fold increase in its Retail LPG – Commercial business.
Its FY2019 performance continued to reflect the success of its two strategic acquisitions in 2018:

The purchase of non-contractual domestic customer relationships resulted in a 6.8% improvement in its Retail LPG – Domestic sales.
The acquisition of U-Gas Pte Ltd paved the way to sell LPG to hawker centres, while the incorporation of a new subsidiary also expanded the LPG supply to eating houses, coffee shops and commercial central kitchens in Singapore, resulting in revenue from our Retail LPG – Commercial business tripling.

The Group remains optimistic that there is more room to grow in the commercial segment and will pursue more contracts to boost sales.
The double-digit growth from LPG and diesel sales have more than mitigated the expected decline in revenue from CNG as the number of natural gas vehicles and vehicles using CNG continues to shrink in Singapore.
Union Gas will also continue to explore opportunities to expand through acquisitions and new businesses that will complement its current operations.