Rubber glove manufacturers and distributors Top Glove Corporation, Riverstone Holdings and UG Healthcare Corp have all seen triple digit percentage gains in the 2020 year to date, with average daily turnover up close to 30-Fold from 2019 levels. 

The largest of the trio, Top Glove Corporation, has seen its turnover ranking surge in 2020, from being ranked within the top 500 stocks by turnover in 2019, to just outside the top 100 stocks by turnover in the 2020 YTD.

The trio of rubber glove makers expects increased glove demand in the coming quarters on the back of COVID-19, with all three manufacturers progressively boosting production lines and capacity to meet the surge in sales.
SGX lists three Rubber glove manufacturers and distributors Top – Top Glove Corporation, Riverstone Holdings and UG Healthcare – which have a combined market cap of S$14 billion.  Together the trio have averaged 223% total returns in the 2020 year to 3 June.
Stock
SGX
Code
Mkt Cap
S$M
Total Return
2020 YTD
%
Average Daily
Turnover
in 2019
S$
Average Daily
Turnover
in 2020 YTD
S$
RIVERSTONE HOLDINGS
AP4
1,593
132
163,916
2,830,032
UG HEALTHCARE 
41A
120
336
11,882
2,278,287
TOP GLOVE CORP
BVA
12,380
202
26,717
813,689
Recently, Top Glove unveiled its results for the quarter and half year ended 29 Feb 2020, while Riverstone and UG Healthcare – which have opted to report their results on a half-yearly basis – last month provided business updates for the quarter ended 31 March 2020.
Top Glove: The world's largest manufacturer of gloves is primary-listed on the Bursa Malaysia, with a secondary listing on SGX. It produces 73.4 billion gloves annually for more than 2,000 customers worldwide and exports to more than 195 countries.

Riverstone: With an annual production capacity of about 9.0 billion gloves, it makes premium nitrile gloves used in the healthcare industry, as well as nitrile and natural rubber clean room gloves.

UG Healthcare: Manufactures and sells disposable gloves under its proprietary "Unigloves" brand through an established global downstream distribution network. It also distributes other medical disposables, such as surgical gloves, vinyl and cleanroom disposable gloves, and face masks.
Bright Prospects Ahead
Global demand for gloves is expected to increase as countries step up efforts to contain the spread of COVID-19. The Malaysian Rubber Glove Manufacturers Association (MARGMA) has forecast global glove demand to grow to 345 billion pieces in 2020, from 298 billion pieces in 2019. Malaysia accounts for more than 60% of global medical glove output.
Top Glove Corporation
Earnings Highlights
For the quarter ended 29 Feb 2020, Top Glove achieved revenue of RM1.2 billion, up 6% YoY, driven by robust sales
The nitrile glove segment saw particularly strong growth, with a 14% YoY increase in volumes sold.
Margins were impacted by the 19% surge in natural rubber latex concentrate prices, which was not mitigated by higher average selling prices.
Profit after tax was RM116 million, up 8.7% YoY, as the Group continued to enjoy tax incentives from its ongoing expansion, as well as unutilised tax allowances from some of its subsidiaries. 
2QFY2020
(RM mln)
2QFY2019
(RM mln)
YoY Chg
(%)
Revenue
1,230
1,160
6.0
Profit from operations
149.4
145.3
2.8
Profit before tax
130.4
125.5
3.9
Profit net of tax
116.0
106.7
8.8
Outlook
Demand:
The Group envisions very solid quarters ahead, having secured exceptionally large sales orders for the next few months.
Demand for gloves is expected to continue growing by at least 10% every year, as awareness and usage increases.
Capacity Expansion:
With current utilisation levels above 90%, it is further ramping up production close to 100% to meet the surge in demand.
New capacity coming onstream will add a total of 24 lines, and a capacity of 3.2 billion pieces of gloves per annum, when fully operational.
More capacity expansion plans are in the pipeline as indicated below: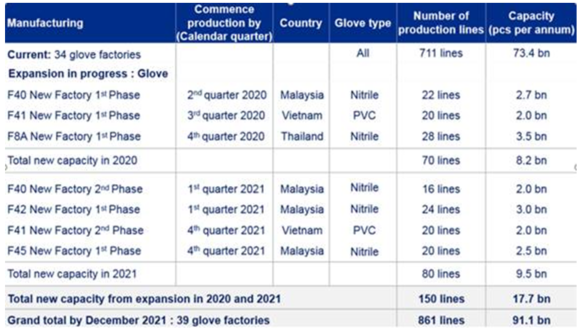 This will boost the number of production lines by 150 lines and capacity by 17.7 billion gloves per annum.
By Dec 2021, Top Glove is projected to have a total of 861 production lines and a capacity of 91.1 billion gloves per annum.
Debt Financing:
On 27 Feb 2020, Top Glove issued RM1.3 billion perpetual Sukuk, which will be used to refinance existing borrowings as well as for capex.
With the restructuring of debts following the Sukuk issuance, and coupled with lower interest rates, interest costs in the coming quarters are expected to fall significantly.
Net gearing had reduced to 0.24 times as at 29 Feb 2020, following the take-up of the perpetual Sukuk as equity.
On 23 Jan 2020, Top Glove was assigned a corporate credit rating of AA by Malaysia Rating Corporation Bhd (MARC), the highest rating accorded to a Malaysian manufacturing company.
Click here for the full results statement.
Riverstone Holdings
Earnings Highlights
With cleanroom and healthcare glove segments continuing to record robust growth in sales volumes, revenue gained 16.2% YoY to RM279.4 million.
Due to declining prices of butadiene, a key raw material used in the production of its nitrile-based gloves, gross profit margin strengthened by 4.6 percentage points YoY to 24.0% during the quarter.
With cash and cash equivalents amounting to RM170.7 million as at 31 Mar 2020, up from RM130.4 million as at 31 Dec 2019, the Group remains well-positioned to carry out its expansion plans.
1Q2020
(RM mln)
1Q2019
(RM mln)
YoY Chg
(%)
Revenue
279.4
240.5
16.2
Gross profit
67.1
46.6
44.0
Profit before tax
58.0
35.6
62.9
Net profit
46.6
30.2
54.3
Outlook
Due to surging worldwide demand, Riverstone has seen an uptick in orders from both new and existing customers.
The Group remains on track to lift capacity progressively by up to 1.4 billion gloves to a total of 10.4 billion gloves per annum by 4Q2020, under phase 6 of its expansion plan.
It is progressively commissioning new lines to satisfy urgent demands by customers for examination gloves.
Click here for the full business update.
UG Healthcare Corp
Outlook
UG Healthcare has been striving to cope with increased orders from both existing and new customers since the COVID-19 outbreak.
The surge in demand for gloves and healthcare/medical disposables has led to higher average selling prices.
The Group is currently operating at its optimum production efficiency with the existing production capacity of 2.9 billion gloves per annum.
Planned additional annual capacity of 300 million gloves will be added in the financial year ending 30 June 2021; will announce plans for further expansion of its production capacity in due course.
The Group has continued to strengthen and entrench its proprietary "Unigloves" brand in all markets that it operates in.
Click here for the full business update.