In May 2020, 18 SGX primary-listed stocks bought back shares for a total consideration of S$15 million, lower than the S$36 million in consideration for April 2020, and seasonally lower than the S$123 million buyback consideration reported in May 2019.

ST Engineering led the May buyback consideration tally, buying back 2 million shares on a new mandate which began on 15 May. The shares were bought back at an average price of S$3.15 per share, with a total consideration of S$6.3 million.

Singapore Press Holdings and Global Investments also led the May consideration tally. Global Investments has now bought back 7.8% of its issued shares (excluding treasury shares) on the current mandate, and has seen its share price decline 2.8% over the first five months of 2020.
Total share buyback consideration for month of May totaled S$14.9 million, down from S$36.3 million in April (see SGX Share Buyback Activity Normalised in April as STI Rebounded 6%) and S$501.5 million in March (see Market Declines Saw 65 Stocks Conduct Share Buybacks in March 2020). This has brought the total consideration of share buybacks for SGX primary-listed stocks to S$650 million for the first five months of 2020, up from S$590 million in consideration for the entire calendar year of 2019.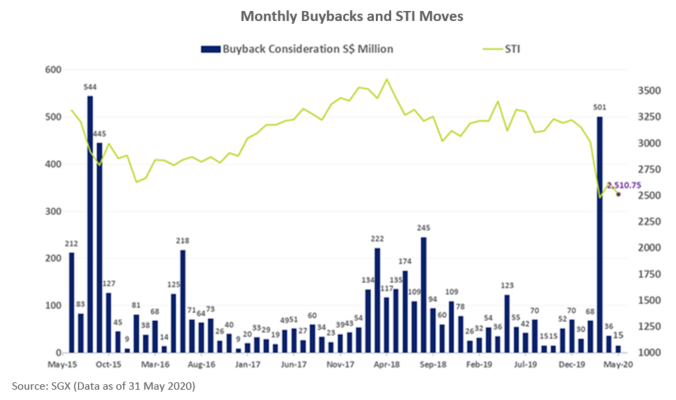 The Straits Times Index (STI) declined 4.3% in April, to 2510.75, as its 10-day historical volatility remained between 22% and 14% for the month, ending at 18%. For context, back in the month of March, STI 10-day historical volatility reached as high as 80%.
Dividend distributions in the month of May by heavyweight constituents, such as DBS Group Holdings and Oversea-Chinese Banking Corp, boost May's total return to a decline of 3.3%, This brought the STI's decline in total return for the first five months of 2020 to 20.8%, with the FTSE ASEAN All-Share Index declining 19.5%.
Together, the SPDR® STI ETF and Nikko AM STI ETF garnered net creations of S$387 million over the first 5 months of 2020 as investors accumulated units amidst the market declines. The S$387 million was is up 120% from the total net creations of S$176 million for the entire 2019 year. 
May 2020 Buyback Consideration Led by ST Engineering, SPH & Global Investments
A total of 18 primary-listed stocks conducted buybacks in Singapore in May, down from 39 in April, down from 65 in March, and similar to 17 stocks in February. 
Global Investments' current mandate has now seen the company buy back 7.76% of its issued shares excluding treasury shares as of the date of the approved buy back resolution on 25 April 2019. The company has seen its share price decline by 2.8% in the first five months of 2020, and has also proposed the renewal of the Share Buyback Mandate at the AGM, currently scheduled by ways of electronic means, on 19 June 2020 at 4.00pm.
The table below summarises the buyback considerations in May 2020. The table is sorted by the value of the total consideration amount for the month, which combines the amount of shares or units purchased and the purchasing price of the transactions. The two companies that commenced new buyback mandates, ST Engineering and Straits Trading Company are in bold. 
Primary-listed Stocks
that conducted
Share Buybacks
in May 2020
Number of
Shares/units
Authorised for
Purchase in
Current Mandate
Total Number
of Shares/units
Purchased in
May 2020
Total Buyback
Consideration (including
stamp duties, clearing
changes etc.) paid
or payable for the
shares in May 2020
Average Share Price
Paid (including stamp
duties, clearing changes
etc.) in May 2020
Cumulative Number
of Shares/units
purchased in Mandate
to 31 May 2020
ST ENGINEERING
62,429,441
2,000,000
$6,307,338
$3.15
2,000,000
SINGAPORE PRESS HOLDINGS
159,456,338
2,080,500
$3,120,383
$1.50
4,698,100
GLOBAL INVESTMENTS
168,741,864
18,484,200
$2,530,249
$0.14
131,002,600
SINGTEL
816,457,915
463,886
$1,179,153
$2.54
945,055
KEPPEL CORPORATION
36,340,188
65,024
$391,838
$6.03
1,575,124
STARHUB
173,022,009
200,000
$286,367
$1.43
2,136,553
HONG FOK CORPORATION
86,147,124
335,300
$245,033
$0.73
13,422,300
CHUAN HUP HOLDINGS
92,827,285
1,016,900
$198,669
$0.20
2,991,700
GRP
18,789,481
1,066,600
$180,831
$0.17
6,134,100
GKE CORPORATION
78,853,189
3,009,000
$178,076
$0.06
7,059,300
STRAITS TRADING COMPANY
40,694,407
50,000
$78,800
$1.58
50,000
KSH HOLDINGS
56,813,564
262,500
$77,749
$0.30
3,635,900
TUAN SING HOLDINGS
118,414,021
218,200
$50,640
$0.23
338,200
SINGAPORE REINSURANCE CORPORATION
60,521,978
163,200
$45,747
$0.28
7,911,800
SARINE TECHNOLOGIES
35,059,572
150,000
$35,334
$0.24
763,800
ELLIPSIZ
16,712,818
60,100
$18,942
$0.32
459,900
SHOPPER360
11,440,000
36,200
$3,439
$0.10
2,717,700
OKP HOLDINGS
30,762,939
14,500
$2,489
$0.17
18,600
Total
 
29,676,110
$14,931,077
 
 
Share buyback transactions involve share issuers repurchasing some of their outstanding shares from shareholders through the open market. Once the shares are bought back, they can be converted into treasury shares, which means they are no longer categorised as shares outstanding. Motivations for share buybacks can include employee compensation plans (such as share option schemes or employee share purchase plans) or long term capital management. Buybacks can pick up amidst market declines that are driven by broader moves on international macroeconomic developments.
The date of the relevant share buyback mandate is also provided in the table above, in addition to the amount of shares authorised to be bought back under the mandate. The total number of shares purchased under the mandate is also provided.
Share buyback information can be found on the company disclosure page on the SGX website, using the Announcement category and sub-category of Share Buy Back-On Market. As best practice, companies should refrain from buying back their shares during the two weeks immediately before its quarterly financial statements and one month immediately before the full-year financial statements.