Last week, Singapore's IMDA issued Final Awards to SingTel and the JV Consortium formed by StarHub and M1, at the close of a rigorous and holistic 5G Call for Proposal process. These entities can deploy nationwide 5G standalone networks that deliver full-fledged 5G capabilities.

NetLink NBN Trust will mark 3 years of listing on SGX on 18 July. Since listing, the advent of 5G has been highly anticipated and NetLink's existing nationwide fibre infrastructure is well-positioned to help industry players speed up 5G deployment, save costs and reduce disruptions.

Returns of SingTel and StarHub, together with NetLink's abbreviated returns for the past 3 years were more defensive than telecommunication peers, with the trio averaging an 10% decline in total return, versus APAC's median decline of 22% and a global median decline of 18%.
Telecommunications sector leader, Verizon Communications has declined 12% in USD terms (8% in SGD terms) in the 2020 year to 26 June. With S$300 billion in market value, the US-listed stock ranks amongst the world's 30 biggest stocks by market value and was known in the 1980s as the Bell Atlantic Corporation, a parent of companies that provided local exchange telecommunications services in the mid-Atlantic region. Earlier this year, Forbes noted that in the United States, when it when it comes to 5G potential, Verizon Communications was the clear leader (click here for more).
Singapore's Telecommunication Leaders
In Singapore, the trio of SingTel, StarHub and NetLink NBN Trust have a key role in the development and deployment of 5G services. The trio have averaged an 10% decline in the 2020 year to 29 June on the back of a 4% median decline for Asia Pacific's Telecommunications stocks. Looking at the past three years, and including the total returns of NetLink NBN Trust which has been listed for just less than three weeks short of three years, the trio also averaged a 10% decline in total return.
As illustrated below, median declines across Asia Pacific and Global telecommunication stocks were also observed over the period.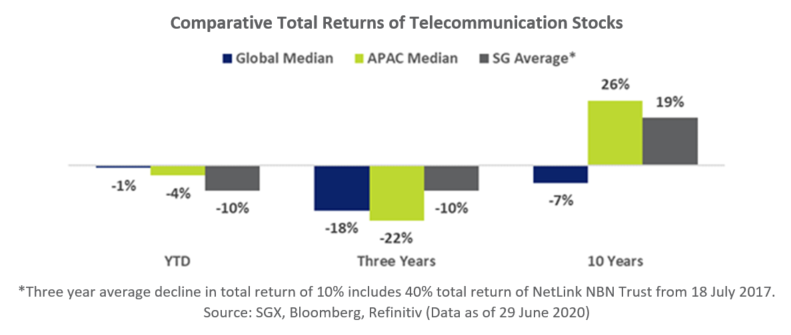 Longer term, the duo of SingTel and StarHub averaged 19% total returns over the past ten years, performing more in-line with the region, with a median decline observed for the global stocks that make up the sector. While SingTel maintains a 140 year history, the introduction to its most recent Annual Report emphasised that Singapore is on the cusp of 5G, underscoring an era of hyper-connectivity and newer technologies that will further revolutionise the way we work and play. 
Last week, SingTel and StarHub were granted final awards for 5G deployment licences with Singapore keeping on track for nationwide 5G standalone deployment by 2025.
5G Enablers & Beneficiaries Have Recently Outpaced Broader Telecommunication Stocks 
Telecommunication service companies providing 5G services are colloquially termed enablers of 5G network, whilst manufacturers are beneficiaries, with software providers representing both genres. For the 2020 year to 29 June, the iEdge-Factset Global 5G Index, which aims to get exposure to global securities that are either enablers or beneficiaries of 5G networks, gained 7%. This bucked the trend of broader Telecommunication stocks and for the past three years, the iEdge-Factset Global 5G Index gained 45% (click here for more). 
Deployment of Singapore's 5G Networks 
On 24 June, Singapore's Infocomm Media Development Authority ("IMDA") announced that it had issued the Final Awards to SingTel Mobile Singapore Pte Ltd and the Joint-Venture Consortium ("JVCo") formed by StarHub Mobile Pte Ltd and M1 Limited at the close of a rigorous and holistic 5G Call for Proposal process. SingTel and JVCo will be assigned 100MHz of 3.5 GHz spectrum each. SingTel, StarHub and M1 will also be assigned 800 MHz of mmWave spectrum each.
SingTel highlighted that the award paves the way for SingTel's nationwide 5G rollout that will not only massively boost the quality of connectivity of its services, but set the stage for extensive digital innovation that will prove transformative for industries, businesses and how people work and live.
SingTel added the licence is also timely in light of Covid-19 and the ensuing reliance on robust infrastructure and connectivity; and that it will build on the momentum created from ongoing 5G trials in the fields of port operations, manufacturing and cloud gaming to offer the most transformative services and solutions to support Singapore's digital economy. Click here more.

For StarHub, JVCo will deploy and own key parts of the 5G network that will be leased to M1 and StarHub, while M1 and StarHub will continue to operate separately and provide retail services to their customers.
StarHub noted in its 1Q20 Business Update that its 5G strategic co-operation with M1 will allow both companies to optimise infrastructure and spectrum costs. StarHub also noted its intention to fast track the rollout of 5G services – its two pronged deployment includes the standalone architecture using the 3.5GHz spectrum and non-standalone architecture utilising the 800MHz mmWave spectrum. More details about StarHub's 5G services will be released closer to commercial readiness. Click here for more.
SingTel and JVCo were issued the Provisional Awards in April this year (for more details click here). TPG Telecom Pte Ltd is also being allocated the remaining frequency spectrum in the millimetre wave band to roll out 5G networks on a localised basis. IMDA maintain that Singapore's vision is to be a global front-runner for innovation in 5G applications and services, supported by a thriving 5G innovation ecosystem as well as a high-performance, secure and resilient 5G infrastructure.
NetLink NBN Trust & StarHub Among Singapore Stocks with Most YTD Net Institutional Buying
NetLink NBN Trust has been the 35th most traded stock in the 2020 year to 29 June, with S$7.6 million of net institutional buying (ranked 21st highest), while StarHub has been the 53rd most traded stock with S$6.5 million of net institutional buying (ranked 22nd highest) .
SingTel is Singapore's second most traded stock on a day-to-day basis and has averaged S$101 million turnover in the 2020 year to 29 June, up for S$67 million a day in 2019. Last year, across all Singapore stocks, SingTel saw the second highest amount of net institutional buying, whereas in the 2020 year to 29 June it saw the third highest net institutional selling.
Recent Declines and Financial Results Poise SingTel & StarHub P/B's Below Recent Averages 
Recent industry challenges and the onset of COVID-19 have seen SingTel and StarHub's price-to-book ratios ("P/B") decline to major lows. At 1.5x, SingTel's current P/B is trading at a near 20% discount to its 3 year average P/B, while StarHub's P/B of 6.7x represents a discount of more than 30% to its 3 year average P/B.
Both SingTel and StarHub reported lower revenues were impacted by weaker consumer spending following COVID-19; for the quarter ended 31 March 2020:
SingTel's operating revenue fell 10% YoY to S$3.9 billion, impacted by lower mobile service revenue and equipment sales and as well as the onset of COVID-19 in February. Underlying net profit decreased 15% to S$594 million, hit by pronounced weakness in its Australia business in the fourth quarter, due to continued data price competition and weak consumer sentiment. Net profit after tax declined 26% to S$574 million, following exceptional losses from a provision for Airtel's regulatory demands on license fees and spectrum charges. SingTel's regional associates continued to drive data usage growth, with pre-tax contributions rising 29% to S$500 million in the quarter.

StarHub reported a 15.2% YoY fall in total revenue to S$506.2 million and a 25.7% decrease in attributable net profit to S$40.2 million. Service revenue declined 8.9% to S$404.9 million as a result of lower revenues from Mobile, Broadband and Pay TV. The Enterprise business recorded a 13.9% increase in revenue to S$152.8 million, led mainly by a 136.8% jump in Cybersecurity Services revenue to S$62.4 million. 
Meanwhile, NetLink NBN Trust's revenue for the quarter ended 31 March 2020 gained 5.2% YoY to S$92.4 million, driven by higher residential connections and diversion revenue, but partially offset by lower installation-related revenue, as well as ducts and manholes service revenue. 
NetLink NBN Trust has also been a part of the STI Reserve List since December and in a recent SIAS investor presentation (click here) highlighted that among its focus items for FY21 was the preparation to support 5G infrastructure in its Non-residential, Non-Building Address Points and Segment connections.
Singapore's Minister for Communications and Information Mr S Iswaran highlighted that at last year's the Mobile World Congress in Barcelona, 5G was the overwhelming preoccupation of the global tech community, from device manufacturers and telecommunication companies, to equipment providers and chipset manufacturers.