In the month of Jan 2020, 16 SGX primary-listed stocks bought back 37 million shares for a total consideration of S$30 million. This was down from S$70 million in consideration for Dec 2019, and similar to the S$26 million filed for Jan 2019.

The Jan buyback consideration tally was led by OCBC, Sembcorp Industries, Silverlake Axis, ST Engineering, Stamford Land . As of 3 Feb, Stamford Land had bought back 4.13% of its issued shares from the date of its current buyback mandate.

Buybacks conducted by STI stocks made up two-thirds of the S$590 million total consideration in 2019. In January 2020, five STI stocks again made up just over two-thirds of the S$30 million, with Singapore Exchange and Singapore Press Holdings also contributing to Jan's buyback consideration.
Total share buyback consideration for month of January 2020 totaled S$29.9 million, down from the $70.1 million in consideration reported for December 2019 (click here for more details). The January 2020 buyback consideration was similar to the S$26.4 million reported for January 2019.
During the month of January 2020, the Straits Times Index ("STI") declined 2.1%. This followed a total return of 9.4% in 2019, as detailed in a Market Update last month (click here for more).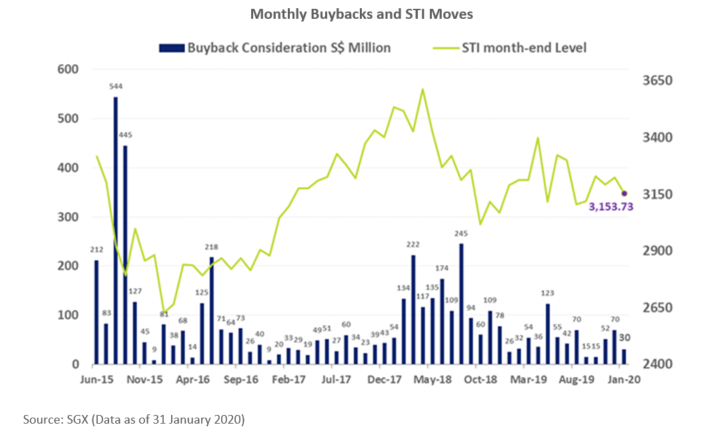 Share buyback transactions involve share issuers repurchasing some of their outstanding shares from shareholders through the open market. Once the shares are bought back, they can be converted into treasury shares, which means they are no longer categorised as shares outstanding. Motivations for share buybacks can include employee compensation plans (such as share option schemes or employee share purchase plans) or long term capital management.
January 2020 Buybacks at S$30 Million
The table below summarises the buyback considerations in January 2020. The table is sorted by the value of the total consideration amount for the month, which combines the amount of shares or units purchased and the purchasing price of the transactions.
Stocks that Conducted buybacks
in January 2020
Max of Number
of Shares/units
Authorised for
Purchase in
Current Mandate
Sum of Total
Number of
Shares/units
Purchased
Sum of Total
Buyback Consideration
(including stamp duties,
clearing changes etc.)
paid or payable
for the shares
Max of
Cumulative
Number of
Shares/units
purchased in
Mandate to date*
OVERSEA-CHINESE BANKING CORPORATION
212,257,935
750,000
$8,247,181
11,080,000
SEMBCORP INDUSTRIES
35,739,673
2,868,000
$6,604,138
4,598,100
SILVERLAKE AXIS
264,505,273
13,111,500
$5,212,403
21,112,900
SINGAPORE TECHNOLOGIES ENGINEERING
62,432,801
800,000
$3,205,350
7,299,100
STAMFORD LAND CORPORATION
81,973,408
4,228,600
$2,113,953
32,817,100
SINGAPORE EXCHANGE
107,164,240
210,400
$1,840,592
210,400
GLOBAL INVESTMENTS
168,741,864
6,322,700
$901,712
71,357,500
SINGAPORE PRESS HOLDINGS
159,456,338
300,000
$609,457
300,000
STRACO CORPORATION
86,411,428
540,000
$362,829
1,974,700
SINGAPORE SHIPPING CORPORATION
42,417,689
622,000
$180,757
15,845,700
HOTEL PROPERTIES
26,914,011
35,900
$136,982
256,200
THE STRAITS TRADING COMPANY
40,767,817
59,300
$125,960
571,700
CDW HOLDING
22,724,200
652,600
$122,302
4,705,500
SPACKMAN ENTERTAINMENT GROUP
103,096,560
5,919,400
$95,004
17,919,400
INTRACO
10,372,588
179,200
$52,628
800,000
TUAN SING HOLDINGS
118,620,496
150,000
$46,873
3,855,000
Total
 
36,749,600
$29,858,122
 
The date of the relevant share buyback mandate is also provided in the table above, in addition to the amount of shares authorised to be bought back under the mandate. The total number of shares purchased under the mandate and the percentage of the companies that issued shares that have been repurchased under the mandate are also provided.
Share buyback information can be found on the company disclosure page on the SGX website, using the Announcement category and sub-category of Share Buy Back-On Market. As best practice, companies should refrain from buying back their shares during the two weeks immediately before its quarterly financial statements and one month immediately before the full-year financial statements.