In the month of Dec 2019, 20 SGX primary-listed stocks bought back 43 million shares for a total consideration of S$70 million. This was up from S$52 million in consideration for Nov 2019, and similar to the S$78 million filed for Dec 2018.

This brought the total buyback consideration for 2019 to S$590 million, with close to 80 primary-listed stocks conducting the buybacks, down from 2018's comparatively larger SS$1.53 billion in consideration with 100 stocks then conducting buybacks.

The 2019 buyback consideration tally was led by OCBC, DBS, Keppel REIT, ST Engineering and Yangzijiang. Buybacks conducted by STI stocks made up two-thirds of the S$590 million total consideration in 2019.
Total share buyback consideration for month of Dec 2019 totaled S$70.1 million, up from the $52.0 million in consideration reported for Nov 2019 (see market update: SGX Stocks Nov Buyback Consideration Reaches S$52M in November for more details). The December 2019 buyback consideration was similar to the S$78.0 million reported for December 2018.
During the month of December 2019, the Straits Times Index ("STI") gained 0.9%. This took the 2019 total return of the Straits Times Index ("STI") to 9.4%, as highlighted in a recent Market Update (click STI Clocks 9.4% Total Return in 2019 for more).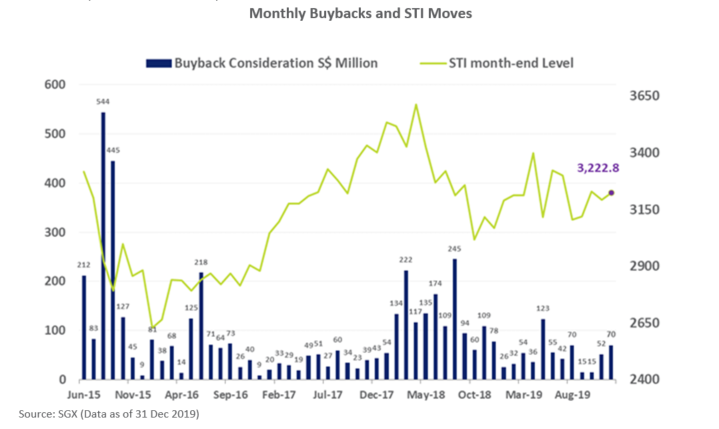 Share buyback transactions involve share issuers repurchasing some of their outstanding shares from shareholders through the open market. Once the shares are bought back, they can be converted into treasury shares, which means they are no longer categorised as shares outstanding. Motivations for share buybacks can include employee compensation plans (such as share option schemes or employee share purchase plans) or long term capital management.
2019 Buyback Consideration Tally at S$590 Million
December buybacks took the total buyback consideration for SGX primary-listed stocks in 2019 to SS$590 million, with close to 80 stocks conducting the buybacks. This meant the 2019 total buyback consideration was close to two-fifths the total buyback consideration in 2018, that totaled S$1.53 billion. As shown in the chart below, the total consideration for 2019 was more similar to the consideration totals in 2016 and 2017.

The 2019 buyback consideration tally was led by Oversea-Chinese Banking Corporation, DBS Group Holdings, Keppel REIT, ST Engineering and Yangzijiang Shipbuilding (Holdings). Buybacks conducted by STI stocks made up two-thirds of the S$590 million total consideration in 2019. By comparison, STI stocks contributed four-fifths of the S$1.53 billion in total buyback consideration for primary-listed stocks in 2018.
The non-STI stocks that are currently actively trading and contributed the highest buyback considerations for 2019 included Keppel REIT, Stamford Land Corporation, Global Investments, Hong Fok Corporation and Olam International.
Dec 2019 Buybacks at S$70 Million
The table below summarises the buyback considerations in December 2019. The table is sorted by the value of the total consideration amount for the month, which combines the amount of shares or units purchased and the purchasing price of the transactions.
Stocks
Max Number
Shares/units
Authorised for
Purchase in
Current Mandate
Dec 2019
Total Number
of Shares/units
Purchased
Dec 2019
Total Buyback
Consideration
 (including stamp duties,
clearing changes etc.)
paid or payable
for the shares
Cumulative of
Number of
Shares/units purchased
in Mandate to date
OVERSEA-CHINESE BANKING CORPORATION
212,257,935
2,400,000
$26,013,511
10,330,000
DBS GROUP HOLDINGS
51,165,438
500,000
$12,460,969
4,150,000
KEPPEL REIT MANAGEMENT
170,210,715
10,015,572
$12,449,425
61,304,972
SINGAPORE TECHNOLOGIES ENGINEERING
62,432,801
2,828,400
$11,331,502
6,499,100
SEMBCORP INDUSTRIES
35,739,673
865,000
$1,880,766
1,730,100
STAMFORD LAND CORPORATION
81,973,408
2,300,800
$1,152,136
28,588,500
SILVERLAKE AXIS
264,505,273
2,635,000
$1,100,746
8,001,400
STRACO CORPORATION
86,411,428
1,313,400
$888,656
1,434,700
HOTEL PROPERTIES
26,914,011
220,300
$841,003
220,300
GLOBAL INVESTMENTS
168,741,864
3,856,100
$550,622
65,034,800
CHINA SUNSINE CHEMICAL HOLDINGS .
98,262,340
806,700
$408,055
6,980,700
SINGAPORE SHIPPING CORPORATION
42,417,689
867,000
$251,942
15,223,700
AEI CORPORATION
5,673,215
197,600
$190,585
3,009,200
SPACKMAN ENTERTAINMENT GROUP
103,096,560
12,000,000
$170,528
12,000,000
CHEUNG WOH TECHNOLOGIES
30,189,290
822,500
$124,624
4,188,400
ANCHUN INTERNATIONAL HOLDINGS .
5,008,260
376,900
$102,909
1,391,700
INTRACO
10,372,588
238,500
$70,397
620,800
KIMLY
115,489,763
280,000
$67,589
5,994,700
FOOD EMPIRE HOLDINGS
53,426,699
24,500
$14,994
424,500
CDW HOLDING
22,724,200
56,000
$10,054
4,052,900
Total
 
42,604,272
$70,081,012
 
The date of the relevant share buyback mandate is also provided in the table above, in addition to the amount of shares authorised to be bought back under the mandate. The total number of shares purchased under the mandate and the percentage of the companies that issued shares that have been repurchased under the mandate are also provided.
Share buyback information can be found on the company disclosure page on the SGX website, using the Announcement category and sub-category of Share Buy Back-On Market. As best practice, companies should refrain from buying back their shares during the two weeks immediately before its quarterly financial statements and one month immediately before the full-year financial statements.