In Nov, the STI declined 1%, bringing the STI's total return for the first 11 months of 2019 to 8%. The buyback consideration of SGX primary-listed stocks over the first 11 months of 2019 was one-third of the consideration recorded over the same period in 2018. 

For the month of Nov, 15 primary-listed SGX stocks repurchased more than 40 million shares with a total consideration of S$52 million. This was up from S$15 million in Oct, and down from S$109 million in Nov 2018.

Nov buyback consideration was led by Keppel REIT, OCBC and Silverlake Axis. The latter also commenced a new buyback mandate last month, as did Sembcorp Industries and ST Group Food Industries Holdings.
Total share buyback consideration for month of Nov 2019 totaled S$52.0 million, up threefold from the $15.2 million in consideration reported for Oct 2019 (see previous update: Keppel REIT Led Modest Buyback Consideration Tally in October 2019). The Nov 2019 buyback consideration was down year on year from the S$108.9 million reported for Nov 2018, which had been mainly driven by the 3 banks.
There were 15 SGX primary-listed stocks that reported buybacks of their SGX-listings over the month, buying back a total of 43.5 million shares or units. Note the tally does not include buyback filings of secondary-listed stocks such as Jardine Matheson Holdings.
For the first 11 months of 2019, the total buyback consideration of SGX primary-listed stocks amounted to approximately S$522 million, which was approximately one-third of the S$1.45 billion recorded for the first 11 months of 2018. The S$522 million in consideration for the last 11 months was more on-par with the S$383 million recorded for the first 11 months of 2017.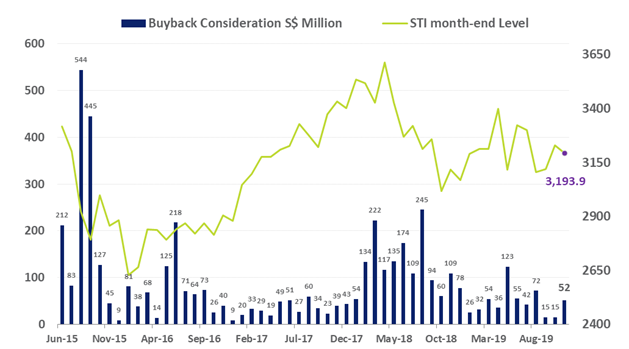 Last month, the Straits Times Index ("STI") declined 1% to 3193.9, from 3,229.9 at the end of October. This brought the STI's total return for the 10 months of 2019 to 8%. For the 11 months, the 30 STI stocks have seen a combined net institutional net inflow of S$1.15 billion.
3 Stocks Commenced New Mandates Commenced in Nov 2019
The table below summarises the buyback considerations in Nov 2019. The table is sorted by the value of the total consideration amount for the month, which combines the amount of shares or units purchased and the purchasing price of the transactions.
Keppel REIT led the consideration again tally in November. As of Nov 30, Keppel REIT Management had bought back a total of 51,289,400 units of Keppel REIT, representing 1.5066 per cent of its issued units as of the April 23 start date for the current mandate. The previous year's mandate saw Keppel REIT Management buy back 1.004 per cent of the units of Keppel REIT.
The 3 stocks that commenced new mandates included Silverlake Axis, Sembcorp Industries and ST Group Food Industries Holdings. Silverlake Axis bought back as much as 0.2 per cent of its issued shares (note based on number of issued excluding treasury shares as of Oct 24, when the current buyback mandate was approved by shareholders). Silverlake Axis' preceding buyback mandate saw the Fintech company buyback back 0.27 per cent of its issued shares. 
Stocks
Max of Number
of Shares/units
Authorised for
Purchase in
Current Mandate
Nov 2019
Total Number of
Shares/units Purchased
Nov 2019
Total Buyback Consideration
  (including stamp duties,
clearing changes etc.)
paid or payable
for the shares
Cumulative Number
of Shares/units
purchased in
Mandate to date
KEPPEL REIT
170,210,715
23,551,800
$28,630,339
51,289,400
OVERSEA-CHINESE BANKING CORPORATION
212,257,935
1,350,000
$14,882,978
7,930,000
SILVERLAKE AXIS
264,505,273
5,366,400
$2,285,087
5,366,400
SEMBCORP INDUSTRIES
35,739,673
865,100
$1,951,626
865,100
AEI CORPORATION
5,673,215
1,811,600
$1,427,590
2,811,600
STAMFORD LAND CORPORATION
81,973,408
1,670,100
$834,606
26,287,700
GLOBAL INVESTMENTS
168,741,864
3,520,400
$498,165
61,178,700
SINGAPORE SHIPPING CORPORATION
42,417,689
1,628,400
$473,011
14,356,700
ST GROUP FOOD INDUSTRIES HOLDINGS
24,600,000
1,035,000
$275,016
1,035,000
TELECHOICE INTERNATIONAL
45,438,718
1,000,000
$209,246
3,600,000
ANCHUN INTERNATIONAL HOLDINGS
5,008,260
790,100
$197,963
1,014,800
AEM HOLDINGS
27,096,300
100,000
$174,448
1,500,000
INTRACO
10,372,588
330,100
$91,956
382,300
CHEUNG WOH TECHNOLOGIES
30,189,290
375,000
$57,294
3,365,900
SHOPPER360
11,440,000
56,000
$6,850
2,681,500
Total
 
43,450,000
$51,996,174
 
Share buyback transactions involve share issuers repurchasing some of their outstanding shares from shareholders through the open market. Once the shares are bought back, they will be converted into treasury shares, which means they are no longer categorised as shares outstanding. Motivations for share buybacks can include employee compensation plans (such as share option schemes or employee share purchase plans) or long term capital management.
The date of the relevant share buyback mandate is also provided in the table above, in addition to the amount of shares authorised to be bought back under the mandate. The total number of shares purchased under the mandate and the percentage of the companies that issued shares that have been repurchased under the mandate are also provided.
Share buyback information can be found on the company disclosure page on the SGX website, using the Announcement category and sub-category of Share Buy Back-On Market. As best practice, companies should refrain from buying back their shares during the 2 weeks immediately before its quarterly financial statements and one month immediately before the full-year financial statements.