Singapore's construction sector has now posted three consecutive quarters of growth, following 10 quarters of declines, based on YoY advanced estimates for 3Q19. BCA expects construction demand to be S$27-S$32B in 2019, comparable to S$30.5B in 2018.

Singapore's 10 most actively traded stocks with a construction focus, and combined market value of S$2.1 billion, have averaged 11% total returns in the 2019 YTD, in-line with the average return for the five largest Singapore-focused Real Estate Developers.

Pan-United has been the strongest of the 10 stocks in 2019 YTD, with a 42% total return, after it was the second least performer of the 10 in 2018 with a 43% decline. In Sept, Pan-United Concrete Pte Ltd became the first concrete firm to win the SGBC-BCA Sustainability Leadership Award.
Based on advance estimates, Singapore's Construction Sector grew by 2.7% YoY in 3Q19, extending the 2.8% and 2.7% expansions in the first two quarters of 2019. According to MTI, the sector was supported by a pick-up in both public and private sector construction activities. Advance estimates are largely based on observations for the first two months of the relevant quarter, in this case July and August (click here for more).
Most Actively Traded Stocks with a Construction Focus Average 11% YTD Total Return 
In the 2019 year through to Oct 11, Singapore's 10 most actively traded stocks with a construction focus generated an average total return of 11%. This was in-line with the 11% average return for the five largest Singapore-focused Real Estate Developers.  The average returns of the 10 stocks with a construction focus, and combined market value of S$2.1 billion, are illustrated below.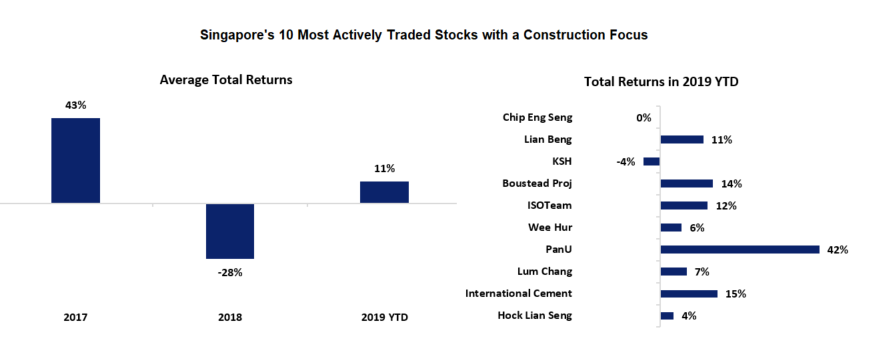 The respective declines in 2018 and gains of 2017 were observed across the world and region. Of the approximate 3000 stocks across Asia Pacific that are involved in both real estate development and construction, their median total return in the 2019 year through to Oct 11 was 1% decline, followed by a median 20% decline in 2018 and a median total return of 7% in 2017. These 3000 stocks represent approximately 4% of the world's market value of all primary-listed stocks.
Construction stocks across the world tend to maintain less market capitalisation that Real Estate Developers, the median market value for these type of stocks is less than S$100 million, which is approximately one third the market value of the average Real Estate Developer. The two sectors maintain a number of similarities and sensitivities to both property and business cycles.
Construction Growth & Demand in Singapore
The three consecutive quarterly gains of Singapore's construction sector, which followed 10 consecutive quarters of declines has been supported by an improvement in private sector construction.
The steady demand by both public and private sectors has the Singapore Building and Construction Authority ("BCA") estimating total construction demand, that is the value of awarded contracts, to be the range of S$27 billion to S$32 billion in 2019, which is comparable to S$30.5 billion in 2018. The private sector contributed 40% to Singapore's construction demand in 2018.
Meanwhile, key transportation construction projects include the MRT expansion, the north-south corridor expressway, Changi Airport Terminal 5 and the Tuas Mega Port.
Like most cyclical industries, broad growth is the first and foremost driver for the sector – Singapore was one of the strongest advanced economies across the world back in 2017, in that year the 10 stocks averaged a 43% total return, and the following year in 2018, as regional growth deceleration kicked in, the stocks averaged a 28% decline in total return. In mid-July Fitch Solutions Research estimated the construction sector would grow by 3% in the short term, however in the medium the construction sector is expected to face external headwinds from global growth deceleration.
Pan-United Led Singapore Construction stocks in 2019 YTD
Pan-United Corporation is a technology company focused on concrete and logistics. While the stock was the second least performing of the 10 relevant stocks in 2018, it has been the strongest of the 10 stocks in the 2019 year-to-date.
For its 1HFY19 (ended 30 June), the Pan-United Group recorded a net attributable profit of S$9.1 million from continuing business, up from $0.6 million in 1H18. While the Group recorded revenue in 1HFY19 was down 6% YoY, its Concrete and Cement ("C&C") business recorded a 16% YoY increase on stronger sales volume growth, and selling prices of ready-mix concrete (RMC) in Singapore. Click here for the full results. The Group is expected to report its 3QFY19 results by the second week of November.

On Sept 5, its wholly-owned subsidiary, Pan-United Concrete Pte Ltd, Singapore's largest concrete and cement provider, became the first and only concrete firm to win the 'SGBC-BCA Sustainability Leadership Award', jointly conferred by the Singapore Green Building Council and the BCA (click here for more).

In the construction of Guoco Tower, which was completed in 2017, Pan-United broke the record for the single largest self-compacting concrete pour in Singapore. According to Pan-United, it supplied 13,500 cubic metres of concrete – enough to fill five Olympic-sized swimming pools – to create a gigantic raft foundation. Furthermore Pan-United maintain the pour employed a continuous convoy of trucks at precise intervals over just 41 hours, at one truck every one-and-a-half minutes with the concrete pour peaking at 531 cubic metres per hour.
SGX Listed Construction Stock Highlights
Of the 10 stocks tabled below, the stocks that saw net institutional inflow over the first 9 months of 2019 were International Cement Group, Lum Chang Holdings, Lian Beng Group and Hock Lian Seng Holdings.
The 10 stocks average a 4% indicative dividend yield. The stock with the highest indicative yield is Chip Eng Seng which maintains a 6% indicative yield, based on the annual 4 cents per share dividend that went ex-dividend on 7 May 2019, and the close price of S$0.625 on Friday.
Meanwhile, Boustead Projects, Chip Eng Seng and Lian Beng Group maintained the lowest 12 month volatility of the 10 stocks. Note, while Catalist-listed ISOTeam is a top 350 stock by market capitalisation, it ranked as a top 250 stock by turnover over the first 9 months of 2019. The recent performances of the 10 stocks with a Construction Focus, ranked by highest trading turnover in first 9 months of 2019 are tabled below.
Stocks with a Construction Focus
SGX
Code
Market
Cap
S$m
Total Return
% 2017
Total Return
% 2018
Total Return
% YTD
Chip Eng Seng Corp
C29
391
64
-29
0
Lian Beng Group
L03
247
66
-35
11
KSH Holdings
ER0
264
85
-33
-4
Boustead Projects
AVM
284
22
-4
14
ISOTeam
5WF
64
-8
-41
12
Wee Hur Holdings
E3B
198
9
-10
6
Pan-United Corp
P52
228
10
-43
42
Lum Chang Holdings
L19
133
10
-6
7
International Cement Group
KUO
132
114
-56
15
Hock Lian Seng Holdings
J2T
166
55
-25
4
Average
 
 
43
-28
11
While the focus of a construction stock may seem narrow, their business can vary from a pure residential real estate construction focus to large industrial projects, or range from engineering services associated with construction, to the provision of construction materials. In addition, different business and property cycles can apply as multiple construction companies have diversified operations across the region, and across different business streams such as real estate management and hospitality.