In September, the STI edged 0.4% higher with dividends marginally improving the total return to 0.5%. This brought the STI's total return for the first nine months of 2019 to 5.3%, while the FTSE ST Mid Cap Index almost doubled the STI's gains with an 11.3% total return.

For the month of September, 23 primary-listed SGX stocks repurchased more than 30 million shares with a total consideration of S$15 million. This was down from S$70 million in August and down from S$94 million in Sept 2018.

September buyback consideration was led by Yangzijiang Shipbuilding, Stamford Land Corporation, Singapore Press Holdings, ST Engineering and Global Investments. Seven stocks initiated new buyback mandates.
Total share buyback consideration for month of September 2019 totaled S$14.9 million, the lowest consideration value for a month since December 2016. The month's buyback was down from S$70.1 million in August and down from S$94 million in September 2018. There were 23 SGX primary-listed stocks that reported buybacks of their SGX-listings over the month, buying back a total of 49.7 million shares.
Volatility gauges of the Straits Times Index ("STI") that take into consideration the last 180 and 250 trading days have continued to trend lower since January. The 180 day historical volatility gauge for the STI has declined from 13.8% in December 2018 to 10.1% yesterday.  Select stocks have also seen short-term volatility gauges decline, such as Oversea-Chinese Banking Corp seeing its 30 day historical volatility back at October 2017 levels.
Last month, the STI edged 0.4% higher with dividend distributions from Venture Corporation and Genting Singapore marginally improving the STI total return to 0.5%. This brought the STI's total return for the first nine months of 2019 to 5.3%. By comparison the FTSE ST Mid Cap Index generated an 11.3% total return, with the iEdge S-REIT Index generating a 25.9% total return over the nine months.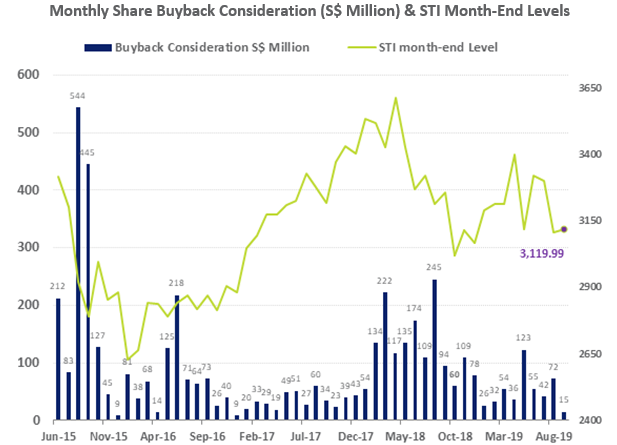 Summary of Share Buyback Considerations in September 2019
The table below summarises the buyback considerations in September 2019. The table is sorted by the value of the total consideration amount for the month, which combines the amount of shares or units purchased and the purchasing price of the transactions. 
Stocks
Number of
Shares/units
Authorised for Purchase
in Current Mandate
Total Number of
Shares/units Purchased
in Sep 2019
Total Buyback
Consideration
in Sep 2019
(including stamp duties,
clearing changes etc.)
paid or payable
for the shares S$
Cumulative Number of
Shares/units purchased
in Mandate to date *
YANGZIJIANG SHIPBUILDING (HOLDINGS)
394,576,520
5,000,000
$4,670,740
25,000,000
STAMFORD LAND CORPORATION
81,973,408
4,062,800
$1,965,093
19,773,600
SINGAPORE PRESS HOLDINGS
159,698,243
939,500
$1,829,054
3,515,800
SINGAPORE TECHNOLOGIES ENGINEERING
62,432,801
400,000
$1,555,995
3,670,700
GLOBAL INVESTMENTS
168,741,864
10,949,000
$1,493,282
48,747,200
SINGAPORE SHIPPING CORPORATION
42,417,689
2,809,000
$818,461
7,364,800
REX INTERNATIONAL HOLDING
129,122,045
7,459,700
$588,517
13,187,000
CHINA SUNSINE CHEMICAL HOLDINGS
49,131,170
508,000
$510,541
3,087,000
HEALTHWAY MEDICAL CORPORATION
226,439,605
14,066,700
$348,427
14,066,700
BREADTALK GROUP
56,376,234
495,000
$312,402
495,000
HRNETGROUP
100,581,957
280,000
$163,392
502,000
CDW HOLDING
22,724,200
645,500
$124,075
3,382,500
CHEUNG WOH TECHNOLOGIES
30,189,290
743,700
$109,334
1,780,300
FOOD EMPIRE HOLDINGS
53,426,699
200,000
$100,812
200,000
JAPFA
186,466,879
167,800
$76,784
1,330,500
STARBURST HOLDINGS
12,114,546
166,600
$61,825
166,600
TUAN SING HOLDINGS
118,620,496
175,000
$58,851
3,705,000
HONG FOK CORPORATION
86,147,124
62,100
$52,638
2,355,300
EUROSPORTS GLOBAL
26,220,160
230,000
$43,300
230,000
STRACO CORPORATION
86,411,428
38,300
$28,862
100,800
SINGHAIYI GROUP
421,905,217
310,000
$27,505
310,000
GRP
19,370,161
20,000
$3,545
1,857,200
ANCHUN INTERNATIONAL HOLDINGS
5,008,260
2,700
$583
2,700
Total
 
49,731,400
$14,944,019
 
Share buyback transactions involve share issuers repurchasing some of their outstanding shares from shareholders through the open market. Once the shares are bought back, they will be converted into treasury shares, which means they are no longer categorised as shares outstanding. Motivations for share buybacks can include employee compensation plans (such as share option schemes or employee share purchase plans) or long term capital management.
The date of the relevant share buyback mandate is also provided in the table above, in addition to the amount of shares authorised to be bought back under the mandate. The total number of shares purchased under the mandate and the percentage of the companies that issued shares that have been repurchased under the mandate are also provided.
Share buyback information can be found on the company disclosure page on the SGX website, using the Announcement category and sub-category of Share Buy Back-On Market. As best practice, companies should refrain from buying back their shares during the two weeks immediately before its quarterly financial statements and one month immediately before the full-year financial statements.