Keppel DC REIT, Mapletree Industrial Trust and Wing Tai Holdings maintain varied levels of exposure to the Data Centre ("DC") market, with all three stocks announcing acquisitions to expand their DC assets last week.

Keppel DC REIT's private placement for the acquisition of two DCs in Singapore was fully covered within the first hour of bookbuilding, at the top end of the pricing range, and ended up being 9.3 times covered.

While Keppel DC REIT invests exclusively in DCs, Mapletree Industrial Trust is expanding its DCs exposure from 18% to 32% of AUM, with an acquisition of 13 DCs in North America through a 50:50 JV with MIPL. Mapletree Industrial Trust's private placement was over-subscribed, and also priced at the top end of the range.

Leading property developer and lifestyle company, Wing Tai Holdings, has DC assets in Australia. Prior to its announcement to acquire a freehold DC located in Victoria, for A$51 million, its combined Australia assets made up 3% of its S$4.4 billion in assets. 
On August 30, Forbes contributor Brad Thomas colloquially termed Data Centres as "Landlords of Virtualisation".
Data Centres are highly specialised property assets. They host providers of data storage and a wide multitude of business and consumer applications that require big data. Integral to their operation, they also host occupants that provide hi-tech services such as telecommunications and cloud computing solutions.  
Another Forbes article back in May, cited an Accenture study that estimated 79% of enterprise executives believe companies who don't embrace big data will lose market strength and may face extinction, while 83% of those executives have pursued big data projects to seize a competitive edge.
In recent years, demand for data has been in step with burgeoning consumer demand for technology and multimedia products and services. One only has to look at the 10 stocks that make up the world's largest stocks by market capitalisation to see that investor demand has kept in pace. As discussed at the end of this Market Update, Singapore has fast become a Data Centre ("DC") hub, reiterated with one of those 10 stocks, Facebook Inc, announcing it would invest S$1.4 billion to construct a DC in Singapore, its first DC in Asia.
Performances of Stocks with Varied DC Exposure in 2019 YTD
Listed on SGX, Keppel DC REIT, Mapletree Industrial Trust and Wing Tai Holdings maintain varied levels of exposure to the DC market:
Keppel DC REIT invests in real estate assets used primarily for DC purposes.
Mapletree Industrial Trust invests in a range of industrial properties that includes DCs across the United States ("US") through a JV with Mapletree Investments Pte Ltd ("MIPL"), in addition to DCs in Singapore.
Wing Tai Holding's property investment portfolio includes some DCs in Australia.
Over the past 12 months, these 3 stocks averaged a 31.6% total return with the average annualised total return over the past three years at 18.0%, ranging from 10.3% for Wing Tai Holdings to 24.9% for Keppel DC REIT. All 3 stocks outpaced the STI over the two periods.
Together the 3 stocks have a combined market cap of S$9.2 billion and averaged S$17 million a day in trading turnover over the first eight months of 2019. For those eight months all three stocks saw positive net institutional inflows, with the combined net institutional inflows close to S$40 million.
Individual performances are illustrated below.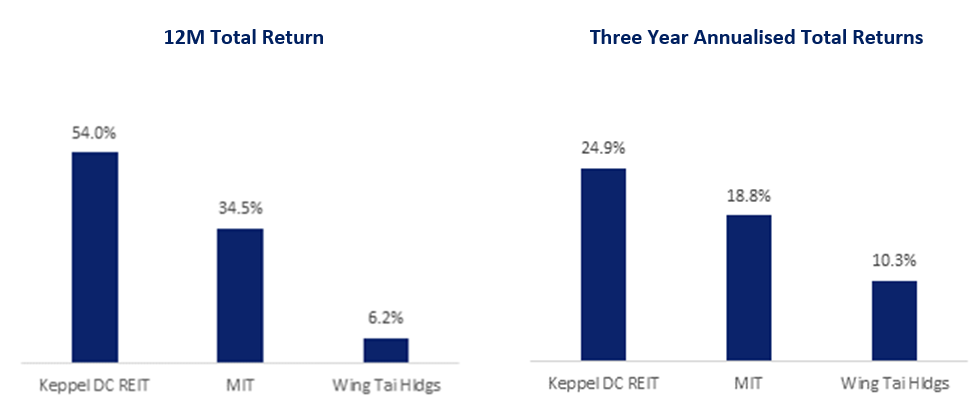 Note the revenue increases and decreases of property developers can vary significantly year-to-year, due to the timespan involved in the planning, development and marketing of properties. For instance for its FY19 (ending June 30), Wing Tai Holdings recorded a total revenue of S$322.6 million, representing a 10% decrease from the S$360.4 million revenue recorded in FY18. However, total revenue in FY18 at S$373.2 million, was up 42% from the S$263.2 million revenue in FY17.
These 3 stocks are also not necessarily an exclusive lists of stocks with DC assets. For instance the hi-specs industrial properties of Ascendas REIT typically have a modern facade, air-conditioned units, and sufficient floorloading and ceiling height as well as high power capacity to allow both office functions and manufacturing activities to be carried out and includes DCs. Also ESR-REIT has approximately 4.0% of its portfolio rented to data centre tenants.
All 3 stocks have announced acquisitions in 2H19 to expand their DC investments, as detailed below:
Keppel DC REIT
On Sept 16, Keppel DC REIT Keppel DC REIT announced two DC acquisitions in Singapore and launched a well participated equity fund raising. The two property acquisitions (KDC SGP 4 and 1-Net North Data Centre are expected to see the REIT's AUM grow by 30.7% to $2.58 billion, comprising 17 DCs. Click here for more details.
The private placement relating to the acquisition of KDC SGP 4 and 1-Net North Data Centre received strong demand from investors, and was fully covered within the first hour of bookbuilding at the top end of the S$1.703 - S$1.744 range. The private placement was approximately 9.3 times covered, and demand came from new and existing institutional as well as other accredited investors. Results of the placement can be found here.
With these acquisitions, Keppel DC REIT will have DCs across the Northern, Central, Eastern and Western regions of Singapore, which puts the REIT in a strong position to serve a wider range of clients. Keppel DC REIT also has DC properties located in Australia (3), Malaysia (1) and Europe (7). 
Mapletree Industrial Trust
Mapletree Industrial Trust has proposed to acquire 13 DCs in North America to be acquired through a 50:50 joint venture with MIPL at a value of US$1,368 million. This followed the acquisition of 14 US DCs for US$750 million in December 2017 through a 40:60 joint venture with MIPL.
Pre-acquisition, DCs in the Mapletree Industrial Trust portfolio make up 17.7% of the S$4.8 billion AUM as of 30 June, split 9.1% US and 8.6% Singapore. Post-acquisition the Mapletree Industrial Trust portfolio would be S$5.8 billion, with DCs making up 31.5% of the AUM, split 24.3% to US and Canada and 7.2% to Singapore.  
Details of the private placement which was overscribed and price at the top end of the price range can be found here.  
Mapletree Industrial Trust also completed upgrading 7 Tai Seng Drive into a DC on 3 Jul 2019. More details can be found in the investor presentation found here.
Wing Tai Holdings
On Sept 16, Wing Tai Holdings announced that WT Corporate Services Pty Ltd as trustee of WT DC Trust II (a wholly-owned subsidiary of the Company), entered into a SPA with Evergreen Nominees (Victoria) Pty Ltd to acquire a freehold DC located within Tally Ho Business Park and wholly leased to a major NYSE-listed IT services company for A$51 million.
This will join to other two DCs in Sydney and Melbourne that are amongst the Group's portfolio of properties in Australia. Note however Wing Tai offers a limited, albeit growing exposure to DCs as just 3% of Wing Tai Holdings were allocated to Australia as of June 30). Click here for more.
Singapore is a DC Hub
In August, property consultants Cushman & Wakefield ranked Singapore as the third most robust DC market across a global ranking of 38 countries, in addition to the top market in Asia Pacific and the sole mature DC market in ASEAN. The report also noted a key industry development for the Singapore DC market was that Facebook would invest S$1.4 billion to construct a Dc in Singapore, its first DC in Asia (click here for more).
Factors that have underpinned growth include:
According to Cushman & Wakefield, Singapore, Indonesia, Malaysia, Thailand, the Philippines and Vietnam are all project to see growth in critical megawatts and rack space over the next five years. Technavio analysts predict that the DC market in ASEAN will grow by US$10.6 billion during 2019-2023, accelerating at a CAGR of 14%, with more than a third of the growth coming from Singapore.
The Data Center Market in Southeast Asia 2019-2023 report (click here) notes there are huge investments in the IT infrastructure in Singapore, especially in cloud computing. Moreover, the ease of doing business in the country has made it one of the global hubs for IT, finance, shopping, and other sectors.
California-based Equinix attributes Singapore's success in the DC market in part to various government initiatives designed to enhance industry competitiveness which include the Green Data Centre Standard and the Personal Data Protection Act 2012. Equinix maintains three IBX® data centers, totaling 41,400 square metres of colocation space with a fourth IBX® data center, SG4, scheduled to open by 2020.
The CEO of Keppel DCs, Wong Wai Meng, recently highlighted to Data Centre Dynamics ("DCD") that Chinese OTT companies and cloud services providers were seeing Singapore as an international gateway to not just ASEAN, but the rest of the world  (click here for more).
On the potential challenge of oversupply, ST Telemedia Global DCs CEO for South East Asia, Clement Goh, told DCD he did not consider there to be an oversupply in colocation capacity in Singapore. Mr Goh noted that given the time it takes to plan for and build new data center facilities, the increasing adoption of cloud technologies, and the upcoming deluge of capacity needs that 5G will usher in, it would be essential to stay ahead of demand to ensure sufficient capacity is in the pipeline.