The new unified CapitaLand Group consisting of CapitaLand and Ascendas-Singbridge have eight stocks listed on SGX with a combined market cap of more than S$50 billion that contribute more than 10% of the day-to-day stock market turnover.

With a 28% average total return, the group of 8 stocks have significantly outpaced broader benchmarks in the 2019 YTD, in addition to generating higher average returns than their regional and global peers.

Momentum has come from rotation into REITs across the world on lower interest rates, while slower growth outlooks have had more impact on trade-related sectors. At the same time, the CapitaLand Group has sought to increase its scale and sharpen its focus. 

This week CapitaLand also noted it had been listed in the acclaimed Dow Jones Sustainability World Index for the 8th consecutive year, cementing the company's reputation as a leader in sustainability in real estate.
CapitaLand is Bigger & Bolder
On June 30, CapitaLand and Ascendas-Singbridge completed a transaction to form one of Asia's largest diversified real estate groups. The enlarged Group maintains a portfolio of more than 1,000 properties with a geographical presence spanning more than 200 cities across more than 30 countries, with a combined AUM of S$129 billion.
This also means the new CapitaLand Group lists eight stocks for trading on SGX with a combined market capitalisation of S$53 billion. Together the eight stocks accounted for close to 12% of the day-to-day turnover of the local stock market with the distribution of the turnover illustrated below.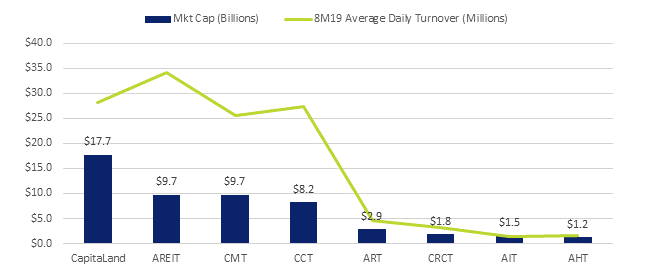 On July 3, the Group proposed a combination of Ascott Residence Trust and Ascendas Hospitality Trust by way of a trust scheme of arrangement, and is subject to unitholder approval with the scheme meeting yet to be convened. Click here for more details.
For a global perspective, the world's largest capitalised real estate stock is American Tower Corp with a market capitalisation of approximately S$135 billion, whilst the tenth largest stock is Welltower Inc with a market capitalisation of S$50 billion.
Eight Stocks Outpaced Global Real Estate Stocks with 27% YTD Total Returns
Together CapitaLand's group of eight SGX-listed stocks comprise of one listed company, five REITs, one hospitality trust and one business trust. Together the eight stocks averaged a 3.3% total return in the Sept quarter (through to 18 Sep), bringing their average 2019 year to date total return to 28.2%.
As illustrated below, from an average total return perspective the eight stocks have outpaced the average and median returns of both the world's largest capitalised 100 real estate stocks in addition to Asia Pacific largest capitalised real estate stocks. Each of the eight stocks also outperformed the average and median returns of the 100 largest capitalised real estate stocks across Asia Pacific.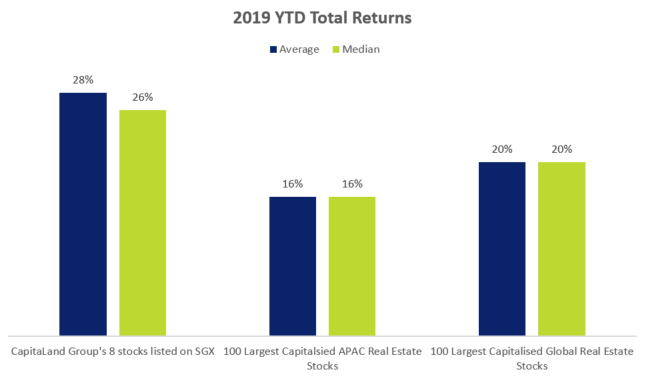 The individual performances for the eight stocks listed on SGX are tabled below, with links to recent corporate presentations delivered at investor roadshows. Indicative dividend yields average 5.0% and are based on distributions over the past 12 months.
Stock Name Sort by Highest Turnover
Stock Code
Mkt Cap
(S$Bn)
QTD
Price
%
YTD
Price
%
YTD
Total
%
Indicative
Dividend Yield
%
Recent Corporate Presentations
Ascendas REIT
A17U
9.7
0
21
24
5%
Click Here
CapitaLand
C31
17.7
-1
13
17
3%
Click Here
CapitaLand Commercial Trust
C61U
8.2
0
22
28
4%
Click Here
CapitaLand Mall Trust
C38U
9.7
1
16
19
5%
Click Here
Ascott Residence Trust
A68U
2.9
4
21
29
6%
Click Here
CapitaLand Retail China Trust
AU8U
1.8
3
13
22
6%
Click Here
Ascendas Hospitality Trust *
Q1P
1.2
11
42
47
6%
Click Here
Ascendas India Trust **
CY6U
1.5
8
36
40
5%
Click Here
Average
3
23
28
Vigorous Moves Amidst Changing Growth & Rates Outlook 
Aside from generating comparatively strong investor returns in the 2019 year to date, all eight stocks have provided more active and experienced investors with short term trading opportunities. All eight stocks have averaged at least 1.0% swings between their intraday high and low on a daily basis for the 12 months ending June 2019. 
Ascendas India Trust led the short term movers averaging 1.8% swings between daily highs and lows and CapitaLand Mall Trust, CapitaLand Commercial Trust and Ascott Residence Trust all averaged 1.6% daily trading ranges. At the same time intraday 1 minute volatility for the eight stocks was 17%.
Interest rate expectations have changed dramatically in 2019. The US Treasury 10-year yields ended 2018 at 2.68%, and then gradually decreased to a low of 1.43% on September 3. The Federal Reserve's economic outlook has been explicitly linked to the impact of global trade and manufacturing sentiment on growth in the United States since Jerome Powell's testimony to US Congress in early July. This has coincided with synchronicity in the local and global performances of interest rate sensitive sectors such as the Banks and the REITs. Last night Chair Jerome Powell mentioned trade policy developments and unsolved geopolitical risk as two key reasons for reducing interest rates by 25 basis points. 
As highlighted above, CapitaLand's group of eight SGX-listed stocks have outpaced both benchmarks and the world's biggest Real Estate stocks, while the significant moves in US Treasuries have provided adequate short term swings for active traders.
Redeploying & Recycling Quality Assets
The Group has also been identifying and divesting assets which are non-core to the business with properties such as StorHub, CapitaMall Wuhu, the equity interest in Mubadala CapitaLand Real Estate and the equity stake in a Hong Kong listed company with main operations in Henan.
In addition the Group has been recycling quality assets into CapitaLand sponsored REITs and funds and redeploying capital into yield-enhancing assets. Examples of the recycling of quality assets in the 2019 year to date include:
Innov Center and interests in Pufa Tower seeded into CapitaLand Asia Partners I (CAP I), a discretionary real estate fund incepted in April 2019, with an investment mandate for value add and transitional office assets in Asia
CapitaMall Xuefu , CapitaMall Aidemengdun in Harbin, CapitaMall Yuhuating in Changsha 5, China recycled into CapitaLand Retail China Trust
Majority interest in Main Airport Center, Frankfurt, Germany recycled into CapitaLand Commercial Trust.
The total divestment value of assets recycled from CapitaLand to its sponsored REITs and funds from January 1 to August 6, 2019 was S$2.14 billion.
CapitaLand 3.0
CapitaLand Group's transformational transaction was announced on January 14, and received overwhelming approval by CapitaLand's independent shareholders at an EGM held on 12 April. The key business objectives of the transaction were fourfold:
Augment strengths of existing core markets of Singapore and China - specifically with its enlarged development pipeline, combined with the potential to unlock the value of mature assets for reinvestment through portfolio optimisation.

More scale and capabilities in the logistics/business park sector through developer-owner-operator platforms with established track records. The Group is poised to benefit from growth megatrends, including e-commerce driven consumption, urbanisation and knowledge industries.

Accelerated growth of income by growing the asset management business further to transform into a global real estate asset manager.
More competitiveness with its enhanced scale and depth would poise the Group in a prime position to offer the most comprehensive solutions to its clients. This would include harnessing technology to create operational efficiencies, build on its enlarged international network of customers, boost employee productivity and realise economies of scale.
As detailed in the table below the newly unified group have been able to deepen its presence in core markets  while building scale and capabilities in its growth markets through the REITs and property trusts. The Group can now also achieve scale in new economy sectors such as business parks and logistics.
Name
Stock Code
Type of Property
Sub-segment
Debt/Asset
(%)
P/B
(x)
Geographical breakdown by portfolio value
(Source: Latest company info)
CapitaLand Mall Trust
C38U
Retail
34.2
1.3
100% Singapore
Ascendas REIT
A17U
Industrial
37.2
1.5
79% SG, AU 14%, 7% UK
CapitaLand Commercial Trust
C61U
Office
34.8
1.1
95% Singapore, 5% Germany
Ascott Residence Trust *
A68U
Hospitality
32.8
1.0
26.5% EU, 15.8% SG, 13.0% JP, 16.7% US, 10% CN, 5.4% VN, 6.4% AU, 3.2% PH, 2.0% ID, 1% MY
CapitaLand Retail China Trust
AU8U
Retail
33.8
0.9
100% China
Ascendas India Trust
CY6U
Diversified
33.0
1.5
100% India
Ascendas Hospitality Trust *
Q1P
Hospitality
34.1
1.1
41% AU, 34% JP, 9% KR, 16% SG
Majority of REITs & Trusts Recently Reported DPU Growth
DPU for 1QFY19/20
ending 30 June
Stock Code
DPU
1QFY19
S cents
DPU
1QFY18/19
S cents
Notes
Ascendas REIT
A17U
4.005
4.002
Included taxable and capital distributions
Ascendas India Trust
CY6U
2.05
1.60
Ascendas Hospitality Trust
Q1P
1.28
1.35
Retention of distributable income for 1Q FY2019 and 1Q FY2018/19 was 6.7% and 7.0% respectively.
Looking Ahead
As highlighted in a recent roadshow, CapitaLand is continuing to focus on fundamentals as growth continues to decelerate across the world. The Group maintains its strengths and focus as follows:
CapitaLand's diversified portfolio and full value chain of real estate capabilities will continue to be its strength.

Added growth potential with the newly integrated Ascendas-Singbridge portfolio comprising of Business Park, Logistics & Industrial as well as India businesses.

The Group will focus on refining our strategy and rejuvenating our existing portfolio to stay competitive.

Disciplined asset recycling will continue and deleveraging will be a key priority.

2H19 project milestones include the opening of the retail mall of Raffles City Chongqing, the launch of the integrated development in Sengkang Central and the start of construction of Phase 2 of International Tech Park Gurgaon in India.

A greater emphasis on ESG to ensure sustainable shareholder value. With the next rebalance of the Dow Jones Sustainability World Index to take effect on Monday, CapitaLand noted it had been listed in the acclaimed Index for the eighth consecutive year, cementing the company's reputation as a leader in sustainability in real estate.
From CapitaLand's listing in Nov 2000, through to the June 2019 completion of the transaction with Temasek for Ascendas-Singbridge, the Group have listed a number of businesses which were the first of their kind, including Singapore's first REIT in July 2002.