In the month of July the STI declined 0.6%, with dividends marginally improving the total return to a decline of 0.2%. This brought the STI's total return for the first seven months of 2019 to 10.3%.

For the month of July, 23 stocks primary-listed on SGX repurchased more than 30 million shares with a total consideration of S$42 million. This was down from S$55 million in June 2019 and down from S$109 million in July 2018.

Buyback consideration was led by OCBC, Keppel REIT and SPH. The current mandate has seen OCBC buy back 0.155% of its shares as of 31 July. The previous year mandate saw OCBC buy back 0.378% of its shares.
Total share buyback consideration for the month of July 2019 totalled S$41.6 million. There were 23 SGX-listed stocks that reported buybacks of their SGX-listings over the month, buying back a total of 32.8 million shares or units.
The S$41.6 million in buyback consideration was less than the buyback consideration of S$55.1 million filed in June 2019 and also less than the average total monthly consideration of S$54 million over the preceding six months.
Last month, the Straits Times Index ("STI") declined 0.6%, with dividends marginally improving the total return to a decline of 0.2%. This took the STI's total return for the first seven months of 2019 to 10.3%. This was in-line with the region with the FTSE All-Share ASEAN Index which gained 10.8% and the FTSE Asia Pacific Index which gained 9.9%.
Singapore stocks began July on a note of optimism for trade talks following the G20 Summit, however, the continued USD strength capped regional gains, with the STI generating a marginal decline for the month, in-line with the FTSE All-Share ASEAN Index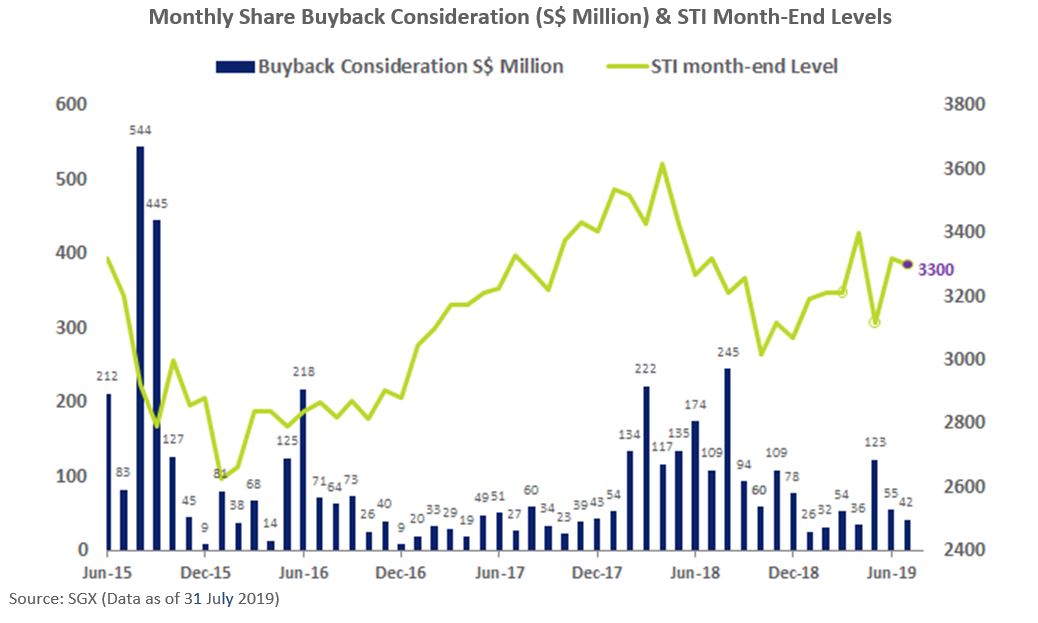 The month of July also saw institutions book some profit in the REIT Sector, which saw Ascendas REIT, CapitaLand Commercial Trust and CapitaLand Mall Trust, which are top 30 stocks by market capitalisation, rank top 10 stocks by turnover throughout July.
Multiple Stocks Commenced New Mandates Commenced in July 2019
The table below summarises the buyback considerations in July 2019. The table is sorted by the value of the total consideration amount for the month, which combines the amount of shares or units purchased and the purchasing price of the transactions. The seven stocks that commenced new mandates are highlighted in Bold.
Stocks
Number of
Shares/units
Authorised for Purchase
in Current Mandate
Total Number of
Shares/units Purchased
in June 2019
Total Buyback
Consideration
in June 2019
(including stamp duties,
clearing changes etc.)
paid or payable
for the shares S$
Cumulative Number of
Shares/units purchased
in Mandate to date*
OVERSEA-CHINESE BANKING CORPORATION
212,257,935
1,550,000
$17,792,147
6,580,000
KEPPEL REIT
170,210,715
7,850,700
$9,775,293
17,591,400
SINGAPORE PRESS HOLDINGS
159,698,243
2,000,000
$4,481,355
2,000,000
OLAM INTERNATIONAL
159,528,593
1,707,200
$3,397,666
4,255,100
BOUSTEAD SINGAPORE
48,968,653
1,687,100
$1,313,355
1,687,100
GLOBAL INVESTMENTS
168,741,864
8,352,500
$1,148,964
32,667,800
THE STRAITS TRADING COMPANY
40,767,817
420,000
$976,932
512,400
DUTY FREE INTERNATIONAL
120,550,039
3,342,100
$604,366
3,342,100
VENTURE CORPORATION
14,401,278
40,000
$596,890
40,000
STAMFORD LAND CORPORATION
86,408,798
1,007,200
$489,592
44,353,900
CDW HOLDING
22,724,200
1,583,100
$303,125
2,224,900
KSH HOLDINGS
56,973,564
500,000
$216,627
1,600,000
SINGAPORE SHIPPING CORPORATION
43,701,979
646,200
$187,781
12,842,900
TUAN SING HOLDINGS
118,620,496
180,000
$64,509
2,975,000
TREK 2000 INTERNATIONAL
32,002,002
550,200
$51,059
555,200
JAPFA
186,466,879
100,000
$50,788
1,012,700
STRACO CORPORATION
86,411,428
62,500
$48,118
62,500
BROADWAY INDUSTRIAL GROUP
46,900,606
992,000
$42,411
992,000
EUROSPORTS GLOBAL
26,500,000
107,000
$18,726
2,798,400
KIMLY
115,489,763
64,000
$15,449
5,714,700
GOODLAND GROUP
36,059,491
55,000
$10,715
385,000
GLOBAL PALM RESOURCES HOLDINGS
19,600,350
15,000
$3,188
105,200
CHEUNG WOH TECHNOLOGIES
30,189,290
10,000
$1,293
10,000
Total
 
32,821,800
$41,590,347
 
Share buyback transactions involve share issuers repurchasing some of their outstanding shares from shareholders through the open market. Once the shares are bought back, they will be converted into treasury shares, which means they are no longer categorised as shares outstanding. Other motivations for share buybacks include companies moving to align stock valuations with balance sheet objectives.
The date of the relevant share buyback mandate is also provided in the table above, in addition to the amount of shares authorised to be bought back under the mandate. The total number of shares purchased under the mandate and the percentage of the companies that issued shares that have been repurchased under the mandate are also provided.
Share buyback information can be found on the company disclosure page on the SGX website, using the Announcement category and sub-category of Share Buy Back-On Market. As best practice, companies should refrain from buying back their shares during the two weeks immediately before its quarterly financial statements and one month immediately before the full-year financial statements.