In April 2019, 19 primary-listed stocks on SGX repurchased close to 30 million shares with a total consideration of S$36 million. This was down from S$54 million in April 2019 and down from S$117 million in April 2018.

6 stocks commenced new buyback mandates in the month of April 2019: Keppel REIT, Global Investments, Tuan Sing Holdings,  Ecowise Holdings, Kim Heng Offshore & Marine Holdings and Axcelasia Inc.

The April 2019 buyback consideration was led by OCBC, which contributed two-thirds of the total consideration. As of 17 April, OCBC had bought back 0.38% of its shares on the mandate. OCBC is scheduled to report 1Q19 financials before the market open on 10 May.
Total share buyback consideration for the month of April 2019 totaled S$35.5 million. There were 19 SGX-listed stocks that reported buybacks of their SGX-listings over the month, buying back a total of 29.6 million shares or units. The S$35.5 million in buyback consideration was one-third lower than the buyback consideration of S$53.5 million filed in March 2019 (click here for more).
Last month, the Straits Times Index ("STI") generated the strongest gains of Asia Pacific's financial centres moving from 3,212.88 at the end of March to 3,400.2 at the end of April. Dividends boost the total return of the STI by 0.2%, bringing the STI total return for the month to 6.1%.
This compared to an average total returns in April of 3.2% for the Nikkei 225 Index, Hang Seng Index and S&P/ASX 200 Index. The STI was propelled by the Bank Sector, whilst beyond the STI, China environment plays buoyed Singapore's Utilities Sector.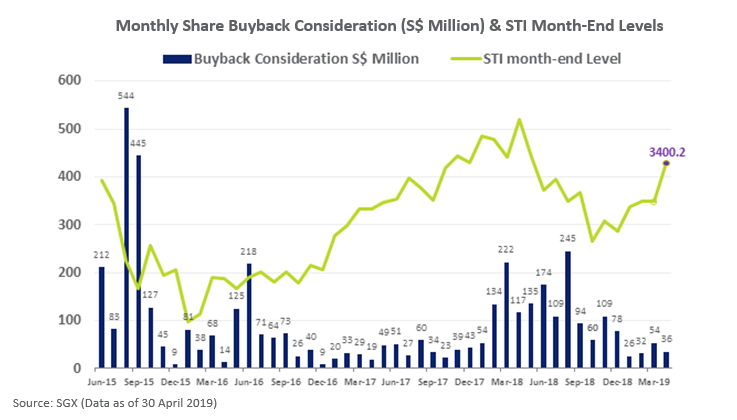 As best practice, companies should refrain from buying back their shares during the two weeks immediately before its quarterly financial statements and one month immediately before the full-year financial statements.
Six New Mandates Commenced in April 2019
Keppel REIT commenced new mandate on 25 April, after Keppel REIT Management bought back 1.004% of Keppel REIT's issued units on the preceding mandate.

Global Investments completed the preceding mandate on 24 April, buying back 2.1473% of its issued shares excluding treasury shares as at the date of that share buyback resolution. Global Investments subsequently began a new mandate on 25 April.

Tuan Sing Holdings commenced a new mandate on 29 April, after buying back 0.4309% of its issued shares excluding treasury shares as at the date of that share buyback resolution.

Ecowise Holdings commenced a new mandate on 26 April after buying back just 500,000 shares in one transaction in the preceding mandate.

Kim Heng Offshore & Marine Holdings commenced a new mandate on 29 April after buying back 167,700 shares in two transactions in the preceding mandate.

Axcelasia Inc commenced its current mandate with one buyback of 9,700 shares on 1 April.
The table below summarises the buyback considerations in April 2019. The table is sorted by the value of the total consideration amount for the month, which combines the amount of shares or units purchased and the purchasing price of the transactions.
Company/ Trust
Number of
Shares/units
Authorised for Purchase
in Current Mandate
Total Number of
Shares/units Purchased
in Apr 2019
Total Buyback
Consideration
in Apr 2019
(including stamp duties,
clearing changes etc.)
paid or payable
for the shares S$
Cumulative Number of
Shares/units purchased
in Mandate to date*
OVERSEA-CHINESE BANKING CORPORATION
209,128,622
2,200,000
25,559,848
15,825,000
KEPPEL REIT MANAGEMENT
170,210,715
2,190,700
2,672,678
2,190,700
HONG FOK CORPORATION
87,061,124
2,442,400
2,183,837
9,140,900
GLOBAL INVESTMENTS
168,741,864
14,688,300
1,967,884
1,530,000
STAMFORD LAND CORPORATION
86,408,798
2,239,100
1,109,890
37,978,500
BEST WORLD INTERNATIONAL
55,032,011
420,000
805,506
1,345,000
KIMLY
115,489,763
1,620,600
382,406
2,050,700
THE STRAITS TRADING COMPANY
40,767,817
89,100
201,335
417,600
TREK 2000 INTERNATIONAL
32,288,792
1,211,700
117,162
2,867,900
HC SURGICAL SPECIALISTS
14,917,573
190,000
112,365
370,000
SINGAPORE SHIPPING CORPORATION
43,701,979
364,800
106,130
11,752,400
EUROSPORTS GLOBAL
26,500,000
500,000
100,417
2,691,400
TUAN SING HOLDINGS
118,620,496
200,000
78,954
200,000
GLOBAL PALM RESOURCES HOLDINGS
19,628,200
248,500
52,595
278,500
GRP
19,370,161
308,700
40,487
310,700
ECOWISE HOLDINGS
95,748,302
496,900
14,001
496,900
KIM HENG OFFSHORE & MARINE HOLDINGS
70,883,230
150,000
9,947
150,000
ASPEN (GROUP) HOLDINGS
96,361,790
60,000
8,821
82,600
AXCELASIA INC.
16,032,000
9,700
894
9,700
Total
 
29,630,500
35,525,155
Share buyback transactions involve share issuers repurchasing some of their outstanding shares from shareholders through the open market. Once the shares are bought back, they will be converted into treasury shares, which means they are no longer categorised as shares outstanding. Other motivations for share buybacks include companies moving to align stock valuations with balance sheet objectives.
The date of the relevant share buyback mandate is also provided in the table above, in addition to the amount of shares authorised to be bought back under the mandate. The total number of shares purchased under the mandate and the percentage of the companies that issued shares that have been repurchased under the mandate are also provided.
Share buyback information can be found on the company disclosure page on the SGX website, using the Announcement category and sub-category of Share Buy Back-On Market.